"A State of Panic": As Colleges and Universities Call Off Classes, Students Scramble
Among the colleges calling off classes because of the novel coronavirus are Harvard University, the University of Washington, Princeton University, Berkeley, and Hofstra University.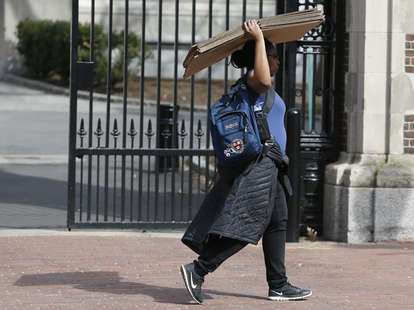 More colleges and universities this week are cancelling in-person classes or moving them online as the novel coronavirus spreads across the U.S. As colleges send students home, many are scrambling to create a plan to leave campus and continue their studies, with the possibility of being off-campus through the spring semester.
On Twitter, #ClosetheSchools has been trending this week, as the number of confirmed COVID-19 cases had climbed to at least 1,000 across 37 U.S. states (at least 29 people have died). Among the colleges calling off classes are Harvard University, the University of Washington, Princeton University, Berkeley, and Hofstra University.
Education futurist Bryan Alexander created a spreadsheet to track the number of closures, which listed nearly 100 institutions as of Wednesday morning and could affect millions of students.
Harvard University announced Wednesday that it'll start teaching all classes virtually beginning March 23, the first day after spring break — telling students that they need to move out of their dorms by Sunday. Students who are traveling for spring break, which starts March 14, were asked not to return to campus. A university spokeswoman told CNN that these decisions were made "in an effort to de-densify our community."
Dianelis Lopez, a second-year Harvard student, told NowThis that the campus is "in a state of panic. In an attempt to assist, the Harvard Admissions and Financial Aid office said it will "help students individually to help them afford travel home."
"I'm just looking at like flight prices and seeing if I could just afford it," said Lopez, who is booking a flight home to Miami. "If [Harvard] ends up releasing some sort of application for financial aid for flights before Thursday, then I would use that. But if they haven't, then I think I am going to be forced to buy a last-minute flight, which is not feasible given that I'm a low-income student."
Lopez also said she has international friends who are worried about internet access in their home countries, which include rural areas, and where they fear a higher susceptibility of contracting the coronavirus.
Government agencies including the U.S. Department of Education have issued guidance that basically enables schools to transition to online instruction without following conventional protocol. For schools that haven't yet detected COVID-19 in their communities, the Centers for Disease Control and Prevention has advised leaders to continue offering services, including housing and meals, where possible. The CDC also recommends that schools create strategies to keep their communities informed "without increasing fear and stigma."