I Dated On "Love Is Quarantine." I Didn't Find Love. I Found Something Else.
The new Instagram dating project is based on Netflix's hugely popular "Love Is Blind."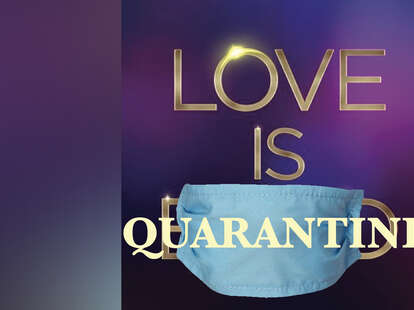 Love Is Quarantine
Love Is Quarantine
It's not that I missed online dating: the painfully unfunny first messages, lukewarm introductory hugs, and the looming fear of "orbiting." But I had already begun to grow tired from the 10-foot walks from my bedroom to the kitchen to do I-don't-know-what. Between panic-scrolls, I welcomed the potential for something beautiful to blossom, no matter how unrealistic.
I signed myself up for "Love is Quarantine" season 2 — a novel Instagram project during the era of socially distanced dating.
"Love is Quarantine" borrows its premise from Netflix's hugely popular reality show "Love is Blind," in which contestants meet each other through isolated, windowless pods without seeing one another. On the show, they chat for approximately 10 days and then decide whether one of their fellow contestants has marriage potential.
"Love is Quarantine" replicates the experience of forging faceless connections, minus all of the proposals.
In "Love is Quarantine," contestants talk on the phone with five "matches" from across the U.S. Afterwards, they then send in reaction videos (the "confessionals") to the project's co-founders, Rance Nix and Thi Q. Lam, who post them on the public Instagram.
When "Love is Quarantine" started, over 1,000 contestant hopefuls, myself included, signed up on a Google Sheet with our name, age, location, and sexual preference (the Google Sheet is now defunct). Nix and Lam say the process got "messy" and are now asking contestant hopefuls to tag the Love is Quarantine account in stories and DM them to have a chance to be featured.
Soon after I signed up on the sheet, I got a call from Nix. He told me I'd been selected as a contestant. I immediately got ready as if I was going to leave my Brooklyn apartment for an IRL date. I shaved, applied deodorant, changed my sweater, and moisturized. Then, I plopped myself on a chair in my kitchen and began nursing a bottle of wine, and thought, "ugh, am I a Jessica?"
The dates with Garret, Kyler, Jack, John, and Daniel began at around 8 p.m ET. The conversations lasted anywhere from 10 to 40 minutes. I talked to one of them about his preference for Vietnamese food, and another turned me on to a starter pack of country music playlists. I told one of the guys that I would send him my first TikTok once I'd filmed it. While three were based in New York, two lived on the west coast — but the distance felt just the same.
Don't worry, I'm not here to convince you that you can meet a lover while you're social distancing. I certainly didn't. But the experience gave me a brief moment of levity during an anxious time, and it showed me that our need for community actually grows stronger when we're forced to distance ourselves. After all, it feels unnatural to abandon the joys of community, friends, and family for the malaise of solitude.
In Albert Camus' "The Plague," the characters of Oran, Algeria, who are quarantined because of a deadly outbreak of bubonic plague, begin feeling a collective pain.
Camus wrote: "A feeling normally as individual as the ache of separation from those one loves suddenly became a feeling in which all shared alike and—together with fear—the greatest affliction of the long period of exile that lay ahead."
Unlike the people of Oran, we have technology that allows us to stay connected with other people. By participating in "Love is Quarantine," I didn't feel like I was going on online dates. Instead, I felt like I could share my fears and anxieties about the ongoing pandemic with people who were open to listening. Even when we weren't talking directly about the coronavirus, I felt supported and comforted knowing that the other people at the end of the line are in a similar position to me, just doing the best they can. During a time of crisis, connecting with other people was an antidote: faceless people uniting in the sameness of our experience.
We've seen how people around the world have come together to share and express themselves in their struggle with the coronavirus.

Videos posted to social media in late January 2020 showed residents of Wuhan, China at their apartment windows, yelling to each other, "Wuhan jiayou," which roughly translates to "keep going, Wuhan" or "hang in there, Wuhan." In Italy, residents are singing anthems from their balconies — a new kind of flashmob. In Spain, a workout instructor held a class on a roof for nearby residents.
The scenes are haunting because they show how societies have been upended to control the spread of the coronavirus. At the same time, the displays of a collective empathy show communities finding a way to gather with and hear each other, even in harrowing times.
As I sat in my kitchen talking to Garret, Kyler, Jack, John, and Daniel, I became less concerned with the expressed goal of 'Love is Quarantine.' I instead found solace in the fact that we were all somewhere in a room, our lives fundamentally altered.