KnowThis: Coronavirus kills 97 people in one day
"Whether we're talking about gender inequality, or racism, or queer rights, ... we're talking about the fight against injustice." — Joaquin Phoenix during his Best Actor acceptance speech
Dems slam Trump's $4.8 trillion budget proposal, which slashes Medicare and Medicaid programs
President Trump released his 2021 budget proposal on Monday as he ramps up his re-election campaign. The $4.8 trillion plan, which requires congressional approval to take effect, includes increased spending on the military, border enforcement, and NASA. On the cutting floor are likely targets that include Medicaid and Medicare, student loan assistance, and affordable housing efforts. Those proposed cuts to Medicare came two days after Trump tweeted the exact opposite. The budget notably does not include an explicit plan to repeal and replace Obamacare, which Trump and Republicans for years have struggled to do. Democratic senators have been quick to slam the proposal, with Sen. Sheldon Whitehouse (D-RI) calling it "dead on arrival." Presidential candidate Sen. Bernie Sanders (I-VT) called the proposal an "immoral document."
Know This: As The Hill notes, the House and Senate will write their own fiscal 2021 spending bills. The presidential budget gives the administration a chance to share its own "political wishlist" — but it's up to Congress what it wants to keep from that wishlist.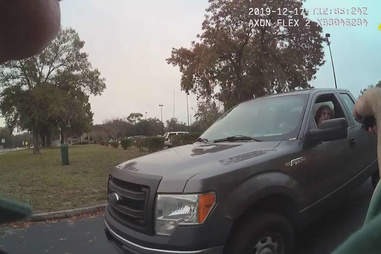 Pasco County Sheriff's Office
School officer threatens to shoot student trying to leave campus
A deputy's body camera captured him threatening to shoot a high school student who was trying to leave campus in his car. William Miller, 17, was trying to leave school grounds in December at River Ridge High School in New Port Richey, FL, when a school resource officer and a school discipline assistant blocked the exit with a golf cart. Nedra Miller, William's mom, obtained the footage and posted it on Facebook — where it went viral. She said her son had an excused absence to go to an orthodontist appointment and planned to return later that day, the Tampa Bay Times reported. The student was told he would be "truant" if he left campus. The school district said it is not investigating the incident, but the Pasco County Sheriff's Office is conducting an internal review.
Know This: William Miller was initially suspended from school after the incident before ultimately getting expelled. Meanwhile, the officer is still employed at the school.
Getty Images
97 dead in one day from coronavirus; death count exceeds SARS outbreak
The new strain of coronavirus has killed more than 900 people, China's health commission announced, exceeding the SARS outbreak in the early 2000s. The disease killed 97 people in China on Sunday alone, prompting President Xi Jinping to tour several public spaces in Beijing on Monday after notable absences. The global death toll has now surpassed the 774 people to date who died from SARS. As cases have now been detected in more than 20 countries — though 99% remain in China — the World Health Organization head said on Sunday that "we may only be seeing the tip of the iceberg." The WHO also announced on Saturday that it would send a team to China this week to investigate the outbreak. In Wuhan, where the disease was first reported in December, a second newly built hospital is now taking patients.
Know This: In the U.S., at least 398 people have been evaluated for the disease in 37 states, the CDC said Monday. Of those people, 12 tested positive, 318 were negative, and 68 are pending. At least one American citizen and one Japanese national have died from coronavirus in Wuhan.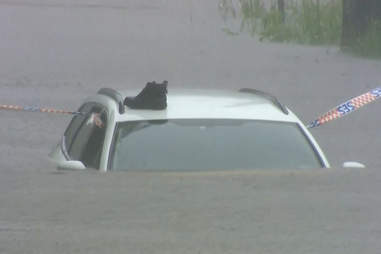 Reuters
Torrential rains flood fire-scorched Australian state
New South Wales, Australia's most populated state, saw torrential downpours and flooding over the weekend. The storm marks the largest sustained run of rainfall in Sydney in the last 30 years. The storms come after months of bushfires burning across the country, which have left at least 30 people dead. While the downpours eased some of the fires and refilled many depleted dams, local officials say they're worried about storm damage. Several towns were already ordered to evacuate. Storms are expected to ease by Wednesday, and forecasters have predicted a heatwave will follow.
Know This: A different storm system, called Storm Ciara, tore through multiple European countries over the weekend, causing damage and disruption and reportedly leaving at least five people dead. A British Airways plane also unintentionally broke a transatlantic record because it was propelled by the storm's intense wind gusts.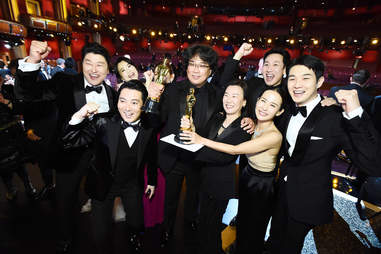 We came, we saw, "Parasite" conquered
Did you watch the Oscars last night? It's totally fine if you didn't because we rounded up some of the most memorable moments, from Billie Eilish's facial reactions to Kristen Wiig and Maya Rudolph's incredible range (we want another movie!). Natalie Portman arrived wearing a stunning Dior cape embroidered with women directors' names, including Melina Matsoukas ("Queen & Slim"), Lulu Wang ("The Farewell"), and Greta Gerwig ("Little Women"), who were all snubbed for Best Director. Best Actor winner Joaquin Phoenix ("Joker") also delivered a powerful speech calling out a range of social issues. The night ended with a historic Best Picture win for "Parasite," which became the first non-English and first South Korean film to win in the category. Bong Joon Ho's film also took Best Director, Best iInternational Feature, and Best Original Screenplay.
Know This: During his acceptance speech for Best Animated Short, "Hair Love" director Matthew A. Cherry advocated for the CROWN Act, which is a law that bans discrimination against natural hair. Watch our original interview with Cherry, who is also a former NFL player and the second professional athlete to win an Oscar behind Kobe Bryant.