Illinois Joined New York, California In Ordering Residents To Stay Home
"We need everyone to be safe, otherwise no one can be safe."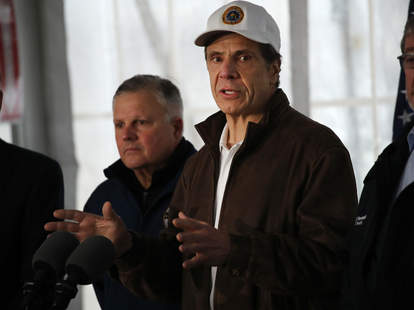 Illinois this afternoon joined New York and California in issuing orders for residents to stay at home. Gov. J.B. Pritzker asked all 12 million-plus residents to leave home only when necessary. Today, Gov. Andrew Cuomo also ordered New York's residents to stay home, effective Sunday, following California's lead and marking the nation's strictest-yet statewide responses to the coronavirus pandemic. Last night, Gov. Gavin Newsom ordered California's nearly 40 million residents to stay home or "shelter in place," effective immediately.
Residents in these states should stay home indefinitely, with exceptions for necessary errands like grocery shopping, essential jobs, or some solitary exercise. The measures are similar to lockdowns in European countries including Spain and Italy, where the death toll on March 19 surpassed China, where the virus was first detected.
"We need everyone to be safe, otherwise no one can be safe," Cuomo said Friday. "This is the most drastic action we can take."
RELATED: State Dept. Issues Highest-Level Global Travel Warning: Don't. At All.
Other states including Washington, which have more confirmed COVID-19 cases than California, have resisted such measures. As of Friday morning, at least 14,250 coronavirus cases have been confirmed in the U.S., including at least 190 deaths, according to the Johns Hopkins University tracker. New York has the highest number of confirmed cases in the country as of March 20.
Only essential businesses will be allowed to keep operating, Cuomo said Friday, and residents should "stay indoors to the greatest extent" to protect physical and mental health. He emphasized that families should not visit one another, and that vulnerable people — those over the age of 60 living with preexisting conditions — should wear a mask in the company of others. The governor cited the importance of "social distancing" measures.
RELATED: Coronavirus: A List Of U.S. State Bans And Closures
Newsom's announcement for California came after he sent a letter to President Trump warning that he thinks more than half of the state's population will be infected with COVID-19. That would amount to more than 25 million people.
Earlier this week, both New York and California ordered that all bars, nightclubs, wineries and brewpubs must close. Restaurants are not fully closed in either state. In New York, they're only allowed to operate for takeout and delivery, while restaurants in California have been directed to reduce their occupancy by half and ensure tables are at least six feet apart, per Gov. Newsom.
In his address Friday, Cuomo emphasized the need for ventilators to treat the respiratory illness. President Trump has resisted in recent weeks using his executive power to address the shortage of medical equipment needed during this pandemic.