Scenes From Countries & Cities Around The World That Are Easing Restrictions
Public health experts have warned that reopening too soon could lead to a spike in infections.
Countries around the world have begun to ease restrictive measures designed to curb the spread of a deadly coronavirus. As of Monday, the global pandemic has infected more than 4.1 million people, including more than 230,000 deaths, according to the Johns Hopkins University tracker. 
Many schools and businesses have been forced to close for weeks, as countries work to reduce the number of infected patients, and people have spent prolonged amounts of time indoors.
In hard-hit countries including France and Italy, which announced the first nationwide lockdown outside of Asia, businesses have this week begun reopening. Children have also begun returning to school in Germany and the Netherlands. In Spain, which has the second-highest number of COVID-19 infections globally, people are eating outdoors at reopened restaurants. In Lebanon, worshipers are gathering in mosques. Most people can still be seen wearing masks and maintaining social distancing.
In the U.S., more than half of states have partially reopened, even as public health experts have warned the country could experience a "second wave" of infections. The New York Times reported that many of the reopened states have failed to meet the federal guidelines that President Trump introduced in mid-April.
Before countries reopened, public health officials have recommended that they have robust testing and contact tracing programs in place to better protect people from infection. A World Health Organization official said Monday that countries had not yet met such protocols before reopening.
"Shutting your eyes and and trying to drive through this blind is about as silly an equation as I've seen," Mike Ryan, head of the Health Emergencies Programme at WHO, said at a news briefing in Geneva. "And I'm really concerned that certain countries are saving themselves up for some seriously blind driving over the next few months."
 
In China's Hubei province, which includes virus epicenter Wuhan that lifted its lockdown last month, at least six new cases have been reported in recent days, according to the National Health Commission. The city had consistently been seeing no new cases at the time of reopening. Elsewhere, Disneyland in Shanghai reopened — marking a prominent attempt to reopen tourism in China. 
In South Korea, which has been praised for its containment of the outbreak, officials reported dozens of new cases tied to a nightclub and bars that reopened in Seoul. The South Korean President Moon Jae-In on Sunday warned the country that it is in a "prolonged war" against COVID-19.  
Below are photos from countries around the world where restrictions have been partially lifted.
France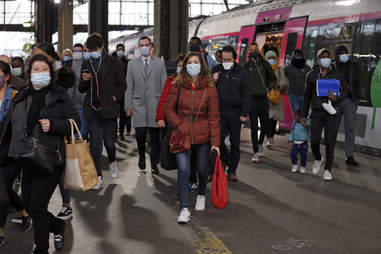 Commuters wearing protective face masks walk on a platform at the Saint-Lazare train station on May 11, 2020 in Paris, France.

| Getty Images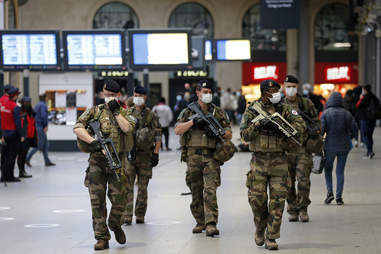 French soldiers wearing protective face masks patrol the Saint-Lazare train station on May 11, 2020 in Paris, France.

| Getty Images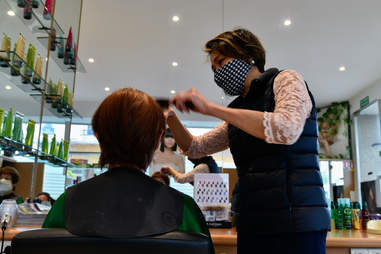 Italy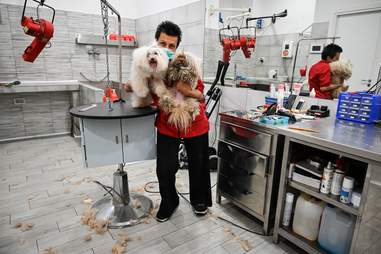 Marina Passerini, owner of the " I peli di Fido " pet grooming shop, wearing a protective mask as she poses with Lilli (R), a young Poodle dog, and Sissi a Bischon dog after re-opened her shop in Rome,on May 11, 2020, following two months closure due to the COVID-19 coronavirus crisis.

| Getty Images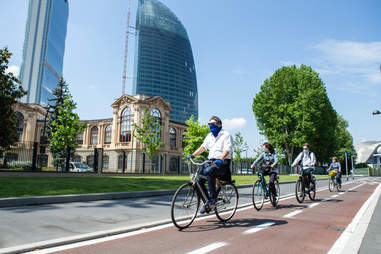 Some cyclists on new cycle paths in Milan, Italy, during the first Sunday of phase two of the containment of the pandemic from Covid-19 on May 10, 2020.

| Getty Images
Spain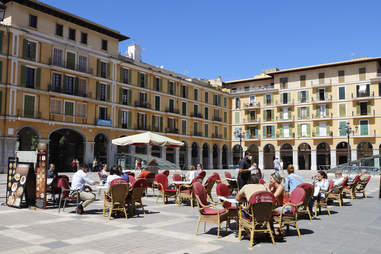 A waiter serves customers in a restaurant on the Plaza Major in Palma, Spain. From Monday, in "Phase 1" of the relaxation of the corona measures, bars, restaurants, shops, libraries and religious places of worship, among other things, will be allowed to reopen.

| Getty Images
People surf on the beach, which was reopened for sport activities after the lockdown measures imposed by the government due to coronavirus eased in Barcelona, Spain on May 09, 2020. It's the first weekend that beach have been opened for surfing and swimming in Barcelona.

| Getty Images
People exercise in Madrid on May 9, 2020, during the national lockdown to prevent the spread of the COVID-19 disease. Spain's two biggest cities Madrid and Barcelona will not enter the next phase out of coronavirus lockdown along with many other regions this week, the government said.

| Getty Images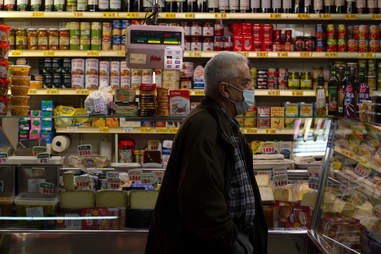 A customer shops at the Vallehermoso market in Madrid on May 09, 2020 in Madrid, Spain

| Getty Images
Germany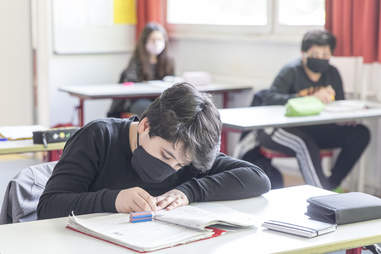 A sixth grader wears a protective face mask as he attends class for the second time since March at an elementary school in the district Kreuzberg during the novel coronavirus crisis on May 5, 2020 in Berlin, Germany. Across Germany tenth graders began returning to school last week and elementary school pupils are returning this week in cautious steps to reopen schools that have been closed since March as authorities lift lockdown measures that had been imposed to stem the spread of the virus.

| Getty Images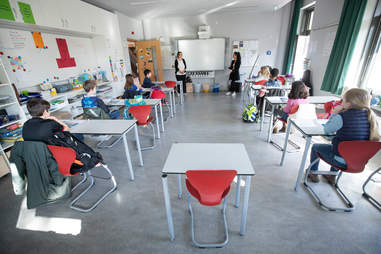 The primary school teacher Christine Dannenberg (l) and the future teacher Fareeha Nezamiler talk to students of the 4d in Goldbeck School and explain the applicable hygiene and distance rules. On Monday, classes began again at the Hamburg schools for more classes, and the fourth graders returned to the primary schools.

| Getty Images
Lebanon
Worshippers take part in the Friday prayers during the Muslim holy month of Ramadan, while keeping a safe distance from each other, at the Mohammed Al-Amin Mosque in the Lebanese capital Beirut's downtown district, after some measures that were taken by the authorities in a bid to prevent the spread of the novel coronavirus were eased, on May 8, 2020.

| Getty Images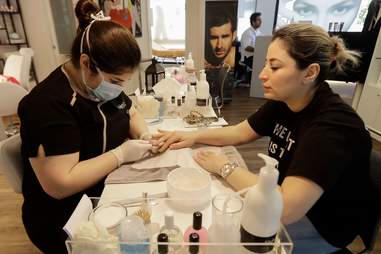 A woman gets her nail done at a salon in Beirut on May 7, 2020, as Lebanon gradually eases its lockdown measures against the spread of COVID-19 coronavirus.

| Getty Images
United Kingdom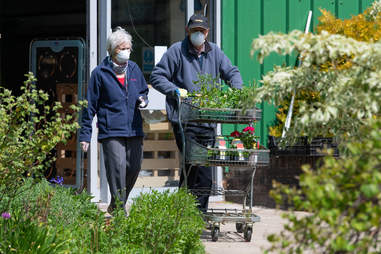 A man and woman wearing surgical face masks leave Caerphilly Garden Centre on May 11, 2020 in Cardiff, United Kingdom. Wales' First Minister Mark Drakeford announced on Friday that garden centres, libraries and tips could open from today and some limits on exercise have been lifted

| Getty Images
Netherlands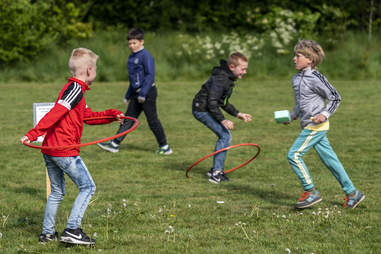 Pupils play at an elementary school Westermarskoalle on May 11,2020 in Joure,Netherlands. Schools open their doors today and children can go back to school after almost two months of compulsory closing.

| Getty Images
Belgium
A customer (L) maintains a safe distance with an employee during the clothing store's reopening in Namur, Belgium, on May 11, 2020, on the first day of a partial lifting of the lockdown introduced two months ago to fight the spread of Covid-19 disease caused by the novel coronavirus.

| Getty Images
China 
Tourists visit Shanghai Disneyland after its reopening on May 11, 2020 in Shanghai, China. Shanghai Disneyland has reopened its gates following months of shutdown, offering a potential model for other mass entertainment venues around the world to open for business during the pandemic.

| Getty Images
India
Migrant workers from other states trying to return to their homes wait for transportation to a train station at a slum in Mumbai, India, Monday, May 11, 2020. India's train network, closed in late March, will gradually restart operations on Tuesday as the country eases its coronavirus lockdown amid a steep rise in the cases of infections.

| AP Images
United States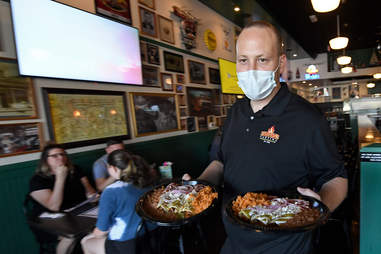 General manager Steven Hanson carries food to a table at Hussong's Cantina in Boca Park Fashion Village as some businesses that were closed seven weeks ago to fight the spread of the coronavirus are allowed to reopen on May 9, 2020 in Las Vegas, Nevada

| Getty Images
Vicente Luque (R) of the United States punches Niko Price (L) of the United States in their Welterweight fight during UFC 249 at VyStar Veterans Memorial Arena on May 09, 2020 in Jacksonville, Florida.

| Getty Images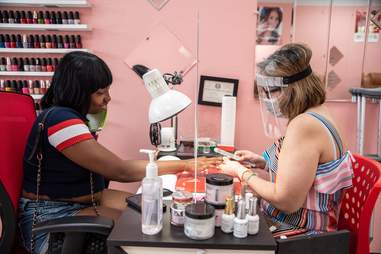 A woman gets her nails filed at a nail salon amid the coronavirus pandemic in Austin, Texas on May 8, 2020 following a slow reopening of the Texas economy.

| Getty Images