An Expert On SARS Outbreak Has A Coronavirus Test Ready. Crowdfunding Could Scale It
A Columbia University team led by Ian Lipkin, a science consultant for "Contagion," developed a test to detect COVID-19 in asymptomatic people.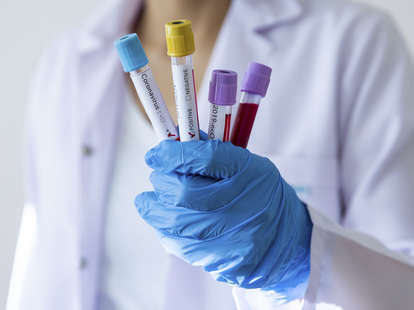 One of the most insidious realities of the novel coronavirus is that people who are infected with COVID-19 can walk around for days without showing symptoms. That's why public health experts have emphasized the importance of "social distancing," as the availability of mass testing and essential medical equipment in countries including the U.S. remains uncertain.
The medical community, in the meantime, has been looking for quicker options to test people who are asymptomatic to slow the outbreak, as there is no cure or existing vaccine.
A team of researchers at Columbia University's Mailman School of Public Health led by Ian Lipkin, one of the world's leading infectious-disease epidemiologists, is working to quickly fund and scale production of a diagnostic test for COVID-19. Known as the "C3 Test," it's described by the Columbia Center for Infection and Immunity as "ultra-sensitive, highly accurate, and quickly scalable." The team wants to rapidly produce a thousand tests a day, as confirmed cases spike daily, and it says results can be processed within four hours. Like other tests being developed for COVID-19, it involves a nasal swab.
Researchers emphasize that this test will help expand testing to asymptomatic carriers, as "most current tests are designed for those who are ill and showing symptoms." The Centers for Disease Control and Prevention have been centrally responsible for testing in the U.S., largely focusing on people who show symptoms. The Mailman School has also said it will make evaluations from its test available in the public domain.
Lipkin has been renowned since discovering the link between the 1999 encephalitis epidemic in New York and the West Nile virus. According to Columbia University, he also introduced the first "sensitive diagnostic test" for SARS in 2003 and identified the animal source for MERS in 2014. Lipkin served as a science consultant for "Contagion," the apocalyptic film that's become a popular rewatch during this pandemic.
To "rapidly scale" production of these diagnostic tests, members of the Mailman School Public Health Board of Overseers launched a crowdfunding campaign on March 20, with a goal of raising $1 million to supplement other sources like grants. In only a few days, the campaign hit nearly one third of that goal. While some donations have amounted to $10 or $25, others have been upwards of $10,000.
"This is an urgent public health crisis," said Gary Miller, vice dean of research at Mailman, speaking to NowThis in a personal capacity. "Seeking support outside of traditional funding sources is part of the solution."
As of Monday morning, at least 354,600 coronavirus cases have been confirmed globally, according to the Johns Hopkins University tracker, including at least 15,400 deaths. In the U.S., at least 35,500 cases have been confirmed, including at least 400 deaths.
The test being developed at Columbia cannot be shipped and will be most immediately available in the greater New York City area, which has recently been recognized as a new epicenter of the outbreak. The test must be performed in a lab, "with samples collected in conjunction with clinical trials and studies," Miller said.
"We are not marketing the test to consumers at this point; rather, we are working with doctors and scientists to figure out how to control and treat COVID-19," Miller said. "Our tests will align well with the White House's current testing plans because they will help increase capacity and be able to adjust sensitivity as needed, which is important for at-risk individuals."
While news about testing, including at-home tests, make headlines and rounds on Twitter, the U.S. Food and Drug Administration said on March 20 that it's actively monitoring the market and has not authorized "any test that is available to purchase for testing yourself at home for COVID-19." The FDA has reportedly authorized a diagnostic test, which does not include the C3 Test as of March 23, but the Columbia team says they anticipate getting approval this week.
Lipkin is also working with officials in China, where the first cases of COVID-19 were detected, to implement the test in labs there. Miller said the team is prioritizing scaling the workflow, and that it's possible to reproduce the testing model in other laboratories across the country.
A member of the Mailman School's Board, ZocDoc founder Cyrus Massoumi, echoed the urgency for fundraising.
"This crisis requires us to pull out all the stops, with everyone contributing their own strengths," Massoumi said. "For those of us on the Mailman School board, that means supporting Dr. Lipkin and his team with this independent fundraising effort which, while unorthodox, fills an immediate need even while the lab continues to pursue grants and other more traditional funding sources."