Coronavirus Update: Apple's Revenue Suffers
In a press release Monday, Apple announced its numbers are lower than projected due to the coronavirus update.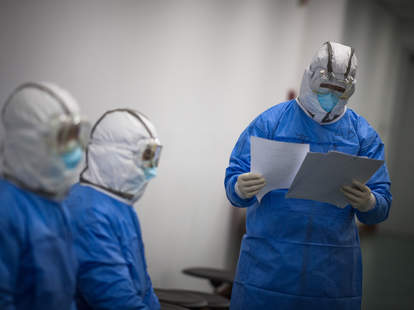 Tuesday, February 18, 5 p.m. ET—Apple's Revenue Suffering from Coronavirus
Apple announced that sales are suffering due to the coronavirus outbreak in China.
In a statement to its investors on Monday, the company explained that, while work in factories and stores are starting to resume in China, the progress is slower than they anticipated. 
"As a result, we do not expect to meet the revenue guidance we provided for the March quarter due to two main factors," the released read.
The two factors include iPhone supply being "temporarily constrained" as its factories reopen, and demand for Apple products being affected in China.
"Our first priority — now and always — is the health and safety of our employees, supply chain partners, customers and the communities in which we operate," the release continued.
Monday, February 10, 1 p.m. ET — 97 dead in one day from Coronavirus 
The new strain of coronavirus has killed more than 900 people, China's health commission announced, exceeding the SARS outbreak in the early 2000s.
The disease killed 97 people in China on Sunday alone, prompting President Xi Jinping to tour several public spaces in Beijing on Monday. The global death toll has now exceeded 900, surpassing the 774 people to date who died from SARS — though the Coronavirus death rate, or the ratio of deaths to infections — is around 2.2% compared to SARS' 9.6%. Globally, the number of confirmed cases has surpassed 40,200.
As cases have now been detected in more than 20 countries — though 99% remain in China — the World Health Organization head said on Sunday that "we may only be seeing the tip of the iceberg." WHO Director-General Tedros Adhanom Ghebreyesus urged all countries to prepare for the spread of the disease, which was declared an international emergency more than a week ago.
In the U.S., at least 398 people are being evaluated for the disease in 37 states, the CDC said Monday. Of those people, 12 tested positive, 318 were negative, and 68 are pending. At least one American citizen and one Japanese national have died from Coronavirus in Wuhan.
Read more about the updates on February 10 here.
Thursday, February 6, 3 p.m. ET — Doctor who warned of coronavirus dies from the virus
A Wuhan doctor who warned of the spread of the coronavirus has died from it, a Chinese hospital confirmed.
Back in December 2019, Wuhan ophthalmologist Dr. Li Wenliang posted in an online group chat with other medical professionals, likening the newly-discovered coronavirus to SARS. Shortly after, Chinese officials claimed Wenliang was spreading false information. 
The hospital confirmed on Thursday the 34-year-old doctor has died from the virus.
"Li Wenliang, an ophthalmologist in our hospital, died … after suffering from pneumonia during the fight against the new coronavirus infection. We deeply regret and mourn for this."
According to a New York Times report, the Chinese government chose secrecy over containing the virus, which ultimately led to its rapid spread, citing Wenliang as an example. Wenliang had previously told a Chinese newspaper, the Global Times, "There should be a lot more openness and transparency" about the virus. 
The death toll of the virus has risen to at least 564 people and has infected more than 28,000 worldwide. 
Thursday, February 6, 11:00 a.m. ET— Newborn Baby Tests Positive for Coronavirus
A Chinese hospital has confirmed that a newborn baby tested positive for coronavirus just 30 hours after being born. The baby was born on February 2 in Wuhan — the epicenter of the virus, and is the youngest person to be infected. The mother of the baby has also tested positive for coronavirus, which medical officials think may be a case of mother-to-baby transmission. 
Wednesday, February 5, 3:20 p.m. ET— Two Cruise Ships Quarantined as Coronavirus Infects Passengers
The Diamond Princess cruise ship confirmed that 10 people have been infected and will be escorted off of the ship and taken to a nearby medical facility in Japan. Off the coast of Hong Kong, The World Dream is also being quarantined after at least 8 people were infected.
Read more about the story here. 
Tuesday, February 4, 5:45 p.m. ET— Death Tolls Surpasses SARS
The death toll of the coronavirus has risen to at least 426 people, and has infected more than 20,000 since the outbreak was first reported in December. The number of deaths has surpassed the SARS outbreak in 2003, which killed 349 people over a nine-month period. 
The virus has now spread to at least 25 countries and territories. Nearly 60 million people remain on lockdown in China as officials work to contain its spread.
Both British and French governments have urged that their citizens living or visiting mainland China to vacate immediately, and has advised against traveling to the Hubei Province—where the virus originated. 
Monday, February 3, 3:00 p.m. ET —Apple shuts down locations in China
Apple announced in a statement to Bloomberg that it would be temporarily shutting down all stores, corporate offices, and contact centers in mainland China until February 9. 
"Our thoughts are with the people most immediately affected by the coronavirus and with those working around the clock to study and contain it," the statement said. "Out of an abundance of caution and based on the latest advice from leading health experts, we're closing all our corporate offices, stores and contact centers in mainland China through February 9."
More than 17,000 cases of coronavirus have been confirmed and more than 300 deaths worldwide.  
Friday, January 31, 12:30 p.m. ET — Flights to China have been halted
On Friday, American and Delta Airlines announced they would stop flights to China for a short period of time amid the coronavirus outbreak. As two of the largest U.S. airlines, Delta and American have now joined an international list of other flight companies that are also suspending travel to China. 
Beginning February 6, Delta will suspend all flights until April 30, they said in a press release. Until then, passengers looking to leave China will still have the option to until that date. The last China-bound flight from the U.S. will depart on February 3. 
American Airlines is suspending flights effective immediately, and will not resume until March 27. 
Thursday, January 30, 5 p.m. ET - Coronavirus is officially an international emergency
The World Health Organization's emergency committee reconvened and declared the coronavirus outbreak an international public health emergency today, after initially declining to make that classification in earlier meetings. The number of confirmed cases has increased to more than 7,800 in 19 countries, and nearly 99% of them are concentrated in China. The first case of human-to-human contact was also confirmed in the U.S. The infected patient is the husband of a woman who returned from Wuhan, China, the city where the new strain of the virus was first detected in December. The CDC has said that while more cases will likely be confirmed in the U.S., the overall risk remains low.
As of Thursday, 34 airlines had reportedly canceled or changed flights to China. In Italy, a cruise ship carrying 7,000 people was stalled at a port after a passenger showed symptoms of coronavirus, though tests reportedly came back negative. 
Wednesday, January 29, 12 p.m. ET - More than 6,000 coronavirus cases confirmed, and British Airways halts flights 
More than 6,000 cases of the new strain of coronavirus have been confirmed in China as of Wednesday, and thousands more are suspected, according to the World Health Organization (WHO). Only 68 cases have been confirmed in other countries, and all but one of those cases involved travel to Wuhan, where the virus was first detected.
Many countries are decreasing their flights to China, and British Airways halted all daily flights to Beijing and Shanghai on Tuesday.
After a visit to Beijing, the WHO's Director-General Tedros Adhanom Ghebreyesus praised the Chinese leader Xi Jinping for taking "charge of a monumental national response" to the outbreak, the Washington Post reported.
The WHO's classification of the outbreak remains high risk on Wednesday, and the organization is set to reconvene its emergency committee on Thursday. The WHO will discuss whether the outbreak has risen to a public health emergency of international concern (PHEIC), which the organization has declined to label it in previous meetings.
Tuesday, January 28, 2 p.m. ET - Wuhan residents shout from their homes while on lockdown
Empty roadways, deserted bus stations, and unused bicycle racks are just part of the scenery in Wuhan, China—the epicenter of the coronavirus. 
The city was placed on lockdown last week, along with 13 other Chinese cities, after the virus began spreading throughout China and other countries. It has reportedly killed more than 100 people and infected more than 2,700. 
Since public transportation and air travel were closed off in Wuhan, the city streets have been practically empty, with all 11 million people being told to stay in their homes. An American tourist in Wuhan documented some of the deserted scenes of the city and said pharmacies seem to be the only businesses to remain open. 
Several videos emerged on social media of Wuhan residents shouting encouraging words to each other from their homes. They could be heard yelling "stay strong," and "keep going," while being on lockdown. Some people sang songs, causing a sing-along to breakout from building to building. 
On Monday, the Chinese government said it would extend its Lunar New Year to end on Thursday instead of Sunday. Their hope with the extension is to keep residents from traveling and "reduce mass gatherings," during the vulnerable time. Some cities have already extended their celebrations, including Shanghai, which extended to February 9. 
Chinese officials have been criticized for their slow response to the spread of the coronavirus—which is a callback to similar criticism of the SARS outbreak in 2002. The first report of the coronavirus was in December 2019 and it has since spread to 11 other countries outside of China. 
Dali Yang, a professor of Chinese politics at the University of Chicago said that "Wuhan authorities clearly downplayed or made efforts to hide the situation for an extended period of time. It turned out to be one of the worst decisions that they'll regret all their lives." 
A market in Wuhan is closed off and guarded by officials due to it's suspicion of fish and agriculture sold there being the cause of the coronavirus. Health officials have not yet determined which animals are carriers of the virus. 
The World Health Organization said on Monday it was working closely with government and health officials in Beijing to help with response and research into the little-known virus. The organization recommends avoiding close contact with people experiencing respiratory issues or flu-like symptoms.