Couple Whose Gender Reveal Sparked Massive California Wildfire Charged With Manslaughter
The San Bernardino couple is facing 30 charges and possible jail time in connection to a September 2020 wildfire that burned more than 22,000 acres.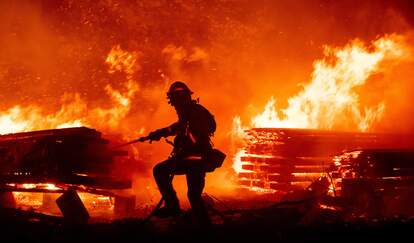 A California couple has been charged with the death of a firefighter, along with dozens of other charges, after hosting a gender reveal party that led to a massive wildfire.
Refugio Manuel Jimenez Jr. and Angela Renee Jimenez were both charged with involuntary manslaughter of firefighter Charles Morton, who died in September 2020 in the El Dorado fire in Yucaipa, CA, according to San Bernardino District Attorney Jason Anderson. The Jimenez's are both facing 30 felony and misdemeanor charges, including recklessly causing a fire with great bodily injury.
Anderson said during a news conference on Tuesday that the couple used a "gender reveal smoke bomb" at El Dorado Park on September 5, 2020, which started a brush fire that eventually burned 22,000 acres of land, destroying homes and other buildings. Two other firefighters were injured in the fire that Anderson said "had a tremendous impact on the community of San Bernandino."
"Obviously, [Morton] wouldn't have been out there if this hadn't started in the first place," Anderson said. "​​He's fighting a fire that was started because of a smoke bomb. That's the only reason he's there."
According to the California Department of Forestry and Fire Protection (CAL Fire), wildfire season has started earlier and ended later each year and points to the climate crisis as a key factor. Longer months of hot, dry weather make forests "more susceptible to severe wildfire," the agency said. So far in 2021, more than 233,000 acres in California have been affected by wildfires.
Gender reveal displays have grown in popularity in recent years and have caused severe damage and death in other parts of the country. In April, residents in a New Hampshire town felt their homes shake when a family caused a massive explosion as part of a gender reveal. In February, a father-to-be in New York died after a device for a gender reveal party exploded.
Six different agencies, including Cal Fire, determined the massive El Dorado wildfire that stretched over two counties was started by a "smoke generating pyrotechnic device." Anderson said the grand jury concluded the involuntary manslaughter charge based on a "cause and effect" and evidence the agencies gathered. The district attorney also added that the couple is facing jail time.
The Jimenez's pleaded not guilty on all charges and were released on their own recognizance, or without bail. The couple is expected to return to court in September 2021.