COVID-19 Patients Who Took Hydroxychloroquine Had Higher Risk Of Death, Study Found
President Trump has continually promoted the anti-malaria drug as a possible "cure" for the virus, despite little evidence for its effectiveness.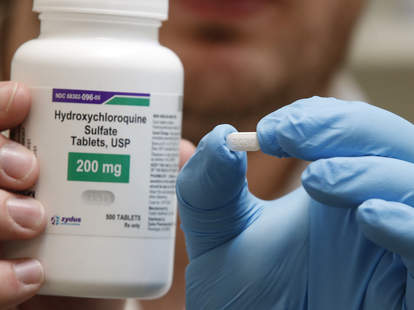 Since this article was published, the hydroxychloroquine study cited by medical journal Lancet has been retracted after its reliability was questioned. Read the latest story here.
A large-scale study of nearly 100,000 coronavirus patients found those who received antimalarial drugs repeatedly touted by President Trump were found to have a significantly increased risk of death.
"Although generally safe when used for approved indications such as autoimmune disease or malaria, the safety and benefit of these treatment regimens are poorly evaluated in COVID-19," the study published in the medical journal Lancet said. 
President Trump has continually promoted hydroxychloroquine as a potential "cure" treatment for the virus, but health officials, including the nation's leading infectious disease doctor Anthony Fauci, have repeatedly contradicted him.
The president even claimed, to the skepticism of many, that he himself has been taking the anti-malaria drug earlier this week.
Pres. Trump says he is taking hydroxychloroquine to prevent symptoms should he get coronavirus

The FDA issued a warning against using hydroxychloroquine outside of clinical trials or hospitals, citing reports of 'serious heart rhythm problems' in patients https://t.co/GQoxquYhww pic.twitter.com/Yz9obNu9ga

— NowThis (@nowthisnews) May 18, 2020
The observational study, which was published on Friday, looked at data from 96,032 coronavirus patients across six continents. Of the patients, 14,888 received the drugs, (which included hydroxychloroquine, chloroquine, and an antibiotic macrolide) while 81,144 did not. Researchers found that those who received the medication had an increased risk of death and developing heart arrhythmia, or irregular heartbeat.
"It's one thing not to have benefit, but this shows distinct harm," Eric Topol, a cardiologist and director of the Scripps Research Translational Institute told the Washington Post. "If there was ever hope for this drug, this is the death of it."
Since the study was observational, it can't provide the type of definitive evidence that scientists can gain from a randomized clinical trial, but its author's it still asserted that it "did not observe any benefit of hydroxychloroquine or chloroquine (when used alone or in combination with a macrolide) on in-hospital outcomes, when initiated early after diagnosis of COVID-19."
The Food and Drug Administration has not yet approved any drug for the treatment of COVID-19 and has warned against using hydroxychloroquine outside of clinical trials or hospitals.