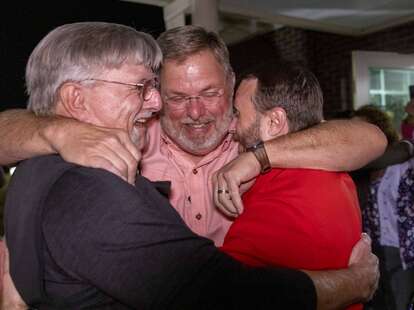 Photo Credit: Georgia Innocence Project
Photo Credit: Georgia Innocence Project
After spending 25 years behind bars for being convicted in the 1996 shooting of a 15-year-old boy, 2 Georgia men have been exonerated and are now free after podcasters from "Proof" uncovered new details about 2 original testimonies.
Cain Joshua Storey and Darrell Lee Clark were teenagers when they were arrested for their supposed involvement in the death of Brian Bowling, who was killed from a gunshot wound to the head, according to the Georgia Innocence Project. Moments before getting shot, Bowling told his girlfriend on the phone that he was playing Russian roulette with a gun that Storey brought. His girlfriend then heard a loud gunshot.
Storey was charged with manslaughter but was later upgraded to murder, after a woman who lived near Bowling's house told investigators months later that she had heard the men discussing how they had planned to kill Bowling. Clark ended up being tied to the shooting when a witness with vision and speech disabilities claimed he saw the teen running through the Bowling's front yard on the night of the shooting.
Thanks to the work of "Proof" podcast hosts Susan Simpson and Jacinda Davis, both claims were found to be false. After investigating the case for a year and a half, the pair discovered the man with vision and speech disabilities had been misunderstood while being questioned in court; he was referring to an unrelated shooting and had not seen Clark the night at issue.
They also found that the woman who lived nearby had been forced into giving false statements and testifying against the man by police investigators, who threatened to have her kids taken away if she didn't comply.
One of Storey and Clark's lawyers, Meagan Hurley, credits the podcasters for finding the evidence that overturned the case. "We would not be where we are but for the good investigative work these podcasters did," she told the Washington Post.
After discovering the new evidence, the podcasters explained to the Bowling family that the men didn't kill the teenager, though it's currently not known what led to Bowling's death. The family supported the release of Storey and Clark. Both men are free and adjusting to their new lives — and the latest technology, including podcasts.