Teen Who Filmed George Floyd's Arrest Testifies That He Was "Begging For His Life"
Darnella Frazier, 18, testified at ex-cop Derek Chauvin's murder trial in Minneapolis.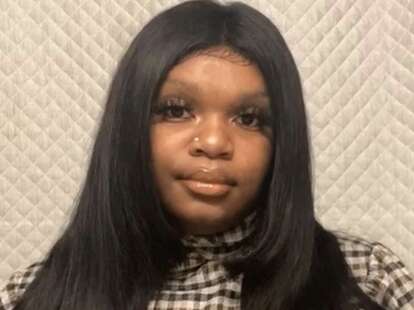 Darnella Frazier, the 18-year-old whose video of George Floyd's arrest went viral and ignited worldwide anti-racism protests, delivered an emotional testimony during ex-cop Derek Chauvin's murder trial on Tuesday. Frazier said she believed Floyd was "begging for his life" during his arrest, the Minneapolis Star Tribune reported, and that she "knew it was over for him."
"When I look at George Floyd, I look at my dad. I look at my brothers. I look at my cousins, my uncles because they are all Black. And I look at how that could have been one of them," said Frazier, who was 17 when she filmed Floyd's arrest in Minneapolis on May 25, 2020. Since she was a minor at the time, she will not be shown on video while testifying during the trial, along with three other minors.
Frazier also reportedly said that she stays up some nights "apologizing and apologizing to George Floyd for not doing more and not physically interacting and not saving his life."
Earlier in March, Frazier wrote on social media that "the news tried to cover up" Floyd's death and that Chauvin "deserves to go down." Last year, she received an award for courage from PEN America, a literary and free expression organization.
Chauvin's murder trial for the death of Floyd began in Minneapolis on Monday, about ten months after video of Floyd's violent arrest last May set off protests across the U.S. and world. Chauvin is charged with second-degree murder, second-degree manslaughter, and third-degree murder.
Given the rarity of police officers facing conviction for misconduct in the U.S., legal experts have recognized that presenting multiple charges increases the chances of a guilty verdict. The second-degree murder charge carries the longest maximum prison sentence of 40 years.
Jury selection in this trial took weeks and has been a significant part of the discussion of how the verdict will play out. During the selection process, potential jurors were asked questions about their support for Black Lives Matter or the police, the Star Tribune reported. Here is more information on the 12 jurors and three alternates. The makeup of the jury — which includes three Black men, one Black woman, and two people who identify as multiracial — is more diverse than the city of Minneapolis, which is more than 60% white and less than 20% Black.
As expected, prosecutors opened on Monday with graphic video footage showing Chauvin kneeling on the neck of Floyd, a Black man who repeatedly said "I can't breathe," for more than nine minutes. Chauvin and the three other cops involved in Floyd's arrest were fired from their jobs the next day.
The defense has focused on drugs found in Floyd's system and his underlying medical conditions as a cause of his death, also as expected.
Earlier Monday, family members of Floyd, attorney Ben Crump, Rev. Al Sharpton, and others knelt silently for nearly nine minutes before the trial began. The proceedings in the case, considered one of the biggest and most contentious in Minnesota history, will be broadcast live in the coming weeks.