D.C. Mayor Calls For Statehood After Massive Security Risk Of "Textbook Terrorism"
In Washington D.C., the mayor must request permission from the White House to deploy the area's National Guard in a case of emergency.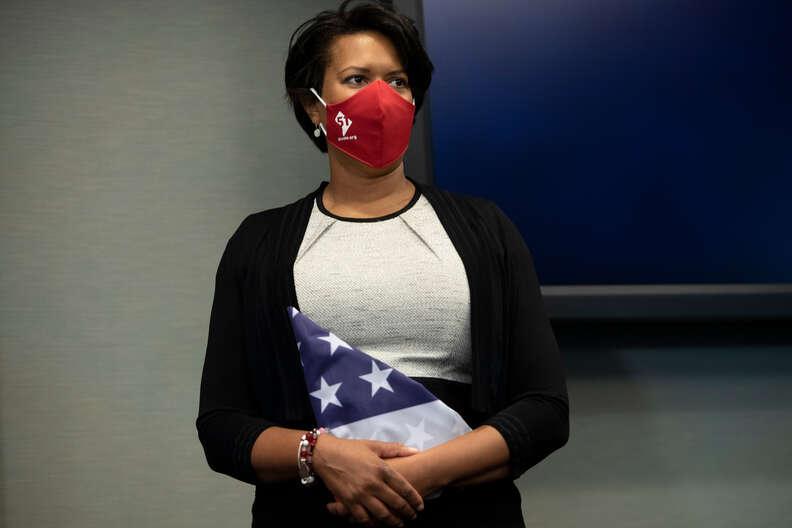 Washington, D.C. Mayor Muriel Bowser is calling for Congress to grant the district statehood after a crowd of Trump supporters violently breached the U.S. Capitol on Wednesday. Bowser also requested that the mayor's office be allowed to deploy the district's National Guard instead of White House officials.
During a press conference on Thursday, Bowser called Wednesday's riot "textbook terrorism" and joined other leaders in blaming President Trump for inciting violence. Trump spoke at the rally earlier Wednesday, before the attack on the U.S. Capitol, where he continued to tout his baseless theories that the election was fraudulent. At the time, Congress was meeting to certify President-elect Joe Biden's win before lawmakers were forced to evacuate out of safety concerns.
The mob turned violent and destroyed Capitol property, breaking into offices, and stealing items from inside the building. At least four people died, and more than 50 people were arrested. D.C. Metropolitan Police reported that they recovered multiple firearms, two pipe bombs, and a cooler containing Molotov cocktails.
Bowser said that after Wednesday's riot, she wants to get "statehood on the president's desk" within the first 100 days that Biden is in office.
"Congress must immediately transfer command of the District of Columbia National Guard from the president of the United States and put it squarely under the command and control of the mayor of the District of Columbia," Bowser said.
Governors have the power to activate their state's National Guard, but in Washington D.C., only the president, defense secretary, or the army secretary have the power to activate troops. Eventually, Army Secretary Ryan McCarthy approved the request. Some reports claim Vice President Mike Pence helped further the decision to deploy the National Guard troops, while Trump reportedly resisted.
The National Guard in D.C. arrived Wednesday after Virginia's governor sent the state's own to the Capitol (Maryland also sent theirs). As Vox reported, "there were conflicting reports earlier in the day about why the DC Guard had not been activated sooner and was sent in only after Virginia's had already deployed."
The National Guard is expected to stay active in Washington D.C. until Biden's inauguration on January 20.
Bowser criticized federal law enforcement's response on Wednesday and compared it to its response during Black Lives Matter demonstrators over the summer — during which federal agents tear gassed protesters. Bowser also requested that Congress, which now has an effective Democratic majority in both chambers, create a "nonpartisan commission" to understand the "catastrophic security failures."
"We must also understand why the federal law enforcement response was much stronger at the protests over the summer than during yesterday's attack on Congress," Bowser continued.
The mayor said she is appointing a joint terrorism task force to investigate and arrest any person who "entered the Capitol, destroyed property, or incited acts of domestic terrorism." Bowser called out Trump directly for encouraging his mob of followers after repeatedly promoting conspiracies about a rigged election. Bowser also called him an "unhinged president."
"More immediately, we know that the current president must be held accountable for this unprecedented attack on our democracy," Bowser continued. "What happened yesterday is what he wanted to happen and we must not underestimate the damage he can do to our nation and our democracy over the next two weeks."
Progressives have pushed for granting statehood to D.C., which Bowser has previously said already performs state functions. Statehood would give D.C. votes in Congress and empower the majority-minority community with a voice at the national level, advocates say.