Delaware Attorney General Calls on DOJ To Investigate Alleged Racial Profiling of HBCU Lacrosse Team
"These students and coaches were not in the proverbial wrong place at the wrong time," Delaware AG Kathy Jennings said in a statement.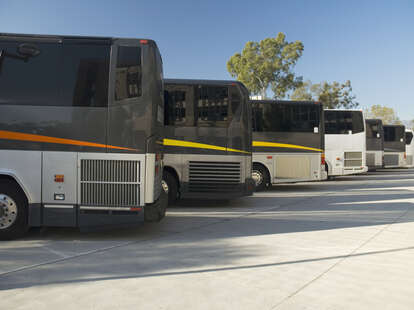 Delaware Attorney General Kathy Jennings has asked for a federal civil rights review in response to a recent traffic stop of a bus filled with women lacrosse players from Delaware State University, a historically Black institution.
While traveling from a game in Florida on April 20, a bus carrying team members was pulled over on Interstate 95 in Liberty County, Georgia. The stop was cited as a traffic violation, however, the officers conducted searches of luggage with a K-9 drug detection dog.
A body camera video released by the Liberty County Sheriff's Office shows one deputy saying, "Positive on the truck? There's a bunch of dang schoolgirls on the truck. Probably some weed." Shortly, thereafter, multiple deputies are seen donning blue surgical gloves, before combing through the bus.
In a statement released yesterday, Jennings expressed frustration at what the lacrosse team says was an instance of racial profiling.
"These students and coaches were not in the proverbial wrong place at the wrong time. Not only did the deputies find nothing illegal in the bags; they did not issue a single ticket for the alleged traffic infraction," Jennings said in the statement.
One team member, Sydney Anderson, took to social media to share video footage of the incident, posting it on YouTube. Anderson also vocalized her frustrations in an Instagram post, writing, "Our constitutional rights were violated and justice needs to be served. Time and time again, racial encounters happen without being formally addressed. It is time to take [a] stand for racial injustice and that starts now!"
Delaware State University President Tony Allen also issued a statement saying that he was personally "incensed" by the occurrence and that the university had reached out to Georgia law enforcement to explore methods of recourse for all university affiliates involved.
In his statement, Allen also harkened back to a "spate of bomb threats" made against HBCUs in January and February, remarking that "personal nobility, individual virtue, and communal excellence do not exempt us from oppressive treatment."