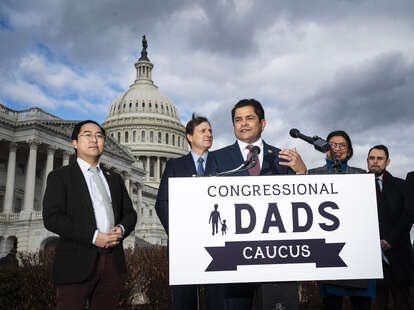 Rep. Jimmy Gomez (D-CA) received praise from millions of parents when he brought his baby son onto the House floor during the first week of the 118th Congress earlier this month.
Gomez said he did so to prove a point about working fathers leaning in on providing child care, saying his gesture "brought visibility to the role of working dads across the country, but it also shined a light on the double standard that exists."
Now, he and other Democratic lawmakers have launched a new caucus, dubbed the Congressional Dads Caucus, that will advocate for legislation intended to help working parents. The group says it hopes to use its clout in the chamber to expand the child tax credit, achieve paid national family leave, and secure more child care program funding.
"[Women legislators] deserve an extraordinary amount of credit, but they should also be able to count on male legislators to be partners in their fight from the beginning," said Rep. Joaquin Castro (D-TX), who has joined the caucus, via NPR. "As a father to three young children, I'm looking forward to using this caucus to help achieve real solutions that have eluded us in the past."
So far, no Republicans are believed to have joined the newly formed group.