A Record 6.6 Million Americans Filed For Unemployment Last Week
Nearly 10 million Americans have filed jobless claims in only two weeks.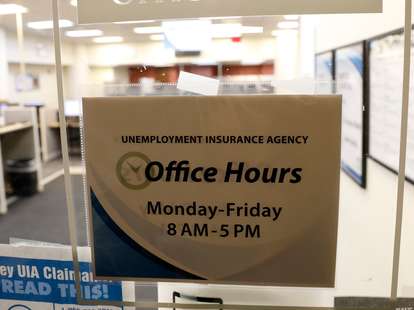 A record 6.6 million Americans filed for unemployment as the coronavirus continues to ravage the job market.
The Department of Labor report released Thursday accounted for jobless claims ending the week of March 28. The number of jobless claims, a stand-in for layoffs, doubled in only a week since the last record, when 3.3 million Americans filed claims.
The news comes as more states including Florida, Pennsylvania, and Mississippi tightened stay-at-home restrictions. While such guidelines have resulted in an economic downtown and hurt small businesses in other states, public health experts note that staying home is the fastest way to contain the outbreak.

The massive $2 trillion stimulus package passed by Congress and signed into law by President Trump last week is designed to alleviate some of the pressure on people who experience loss of work and income. While the guidelines of what workers can apply for unemployment varies by state, the package extended the ability to apply for unemployment to contractors and self-employed people. The stimulus also includes provisions for small businesses.