A Detox Tea Brand Pushed by Celebs Has to Pay $1 Million for False Advertising
Teami paid influencers and celebrities like Kylie Jenner, Cardi B, and Demi Lovato to promote products with unsubstantiated health benefits.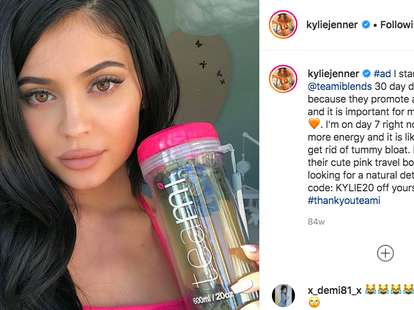 Instagram/ Kylie Jenner
Instagram/ Kylie Jenner
A detox tea company that hired influencers and celebrities to promote its products to their massive and mostly young fan bases has settled with the Federal Trade Commission after being hit with a lawsuit for falsely advertising health benefits that were unsubstantiated.
On March 5, the FTC filed a legal complaint against company Teami, alleging they said without evidence that their growing list of "detox" products could help treat cancer, unclog arteries, prevent the flu, and decrease migraines. One of the most touted effects claimed by celebrities and influencers pushing the teas is weight loss or decreased bloating.
Detox teas and supplements are advertised on Teami's website as a way to "reset, refresh, and transform in just 30 days." One of their teas is called "Teami Skinny." Other products promoted by influencers include skincare products like face masks and facial oils.
The complaint also said some of the influencers who pushed the sale of Teami's various products did not adequately disclose in their social media posts that they were being paid to do so. Kylie Jenner, Cardi B, and Demi Lovato are some of the celebrities who promoted Teami's products, often on Instagram to their millions upon millions of followers, usually telling people to use a custom code to purchase the items at a discount.
Ten influencers who were paid to promote Teami's products, including Adrienne Bailon, Jordin Sparks, and Alexa PenaVega, were sent warning letters from the FTC in March 2020 to prominently disclose paid endorsements. According to the complaint documents, the FTC did not appear to have sent letters to Kylie Jenner and Demi Lovato.
Over the last few years, the FTC had already issued ad disclosure guidance for influencers to be more explicit about the fact they were selling something, like putting "#ad" in the beginning of the caption. And in 2017, Instagram itself released a tool allowing influencers to mark posts with a tag stating, "In paid partnership with" a given brand.
Ultimately, on March 6, Teami settled with the FTC for $1 million, which will be returned to customers.
"The internet is an important mechanism for facilitating the flow of information between businesses and consumers, so combating the spread of misinformation online is critical," the FTC wrote in a statement.
Actor and activist Jameela Jamil has been vocal in the past about detox tea products and their endorsements from major celebrities like Kim Kardashian West and Khloe Kardashian. Jamil commented on one of Khloe's sponsored posts for Flat Tummy Tea last year, saying, "If you're too irresponsible to: a) own up to the fact that you have a personal trainer, nutritionist, probable chef, and a surgeon to achieve your aesthetic, rather than this laxative product...And b) tell them the side effects of this NON-FDA approved product, that most doctors are saying aren't healthy [...] then I guess I have to."