Disney Faces "Mulan" Boycott After Thanking Chinese Authorities Who Are Running Muslim Concentration Camps
The Chinese government has reportedly banned media coverage of the new live-action film because of the latest controversy, despite Disney betting big on its success in the country—ignoring the concerns of human rights activists.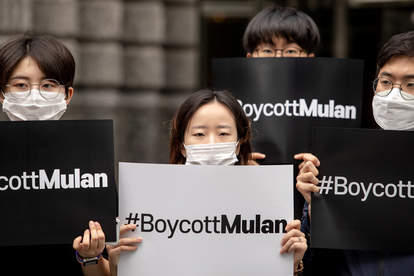 Disney's newly released "Mulan" film has prompted calls for boycotts by activists and lawmakers, after viewers noticed that part of the live-action movie was filmed in the Xinjiang region in China, where the country's government has kept more than a million Uighur Muslims in concentration camps.
The live-action movie, which was released on the Disney+ streaming service on September 4 in the U.S. and is scheduled for release in China on September 11, includes end credits where Disney thanks eight government entities in Xinjiang, drawing a fresh round of calls for a boycott.
Mulan specifically thank the publicity department of CPC Xinjiang uyghur autonomous region committee in the credits.

You know, the place where the cultural genocide is happening.

They filmed extensively in Xinjiang, which the subtitles call "Northwest China"#BoycottMulan pic.twitter.com/mba3oMYDvV

— Jeannette Ng 吳志麗 (@jeannette_ng) September 7, 2020
It's not the first time the film has faced controversy; last year, activists called on people to #BoycottMulan after the film's main star, Liu Yifei, tweeted in support of Hong Kong police who were using excessive force against pro-democracy protesters.
Joshua Wong, one of the most prominent pro-democracy activists in Hong Kong, tweeted last week in support of a boycott by "everyone who believes in human rights":
This film is released today. But because Disney kowtows to Beijing, and because Liu Yifei openly and proudly endorses police brutality in Hong Kong, I urge everyone who believes in human rights to #BoycottMulan. https://t.co/utmP1tIWNa

— Joshua Wong 黃之鋒 😷 (@joshuawongcf) September 4, 2020
On Thursday, Reuters reported that Chinese authorities have subsequently banned media coverage of Mulan a day before its release in the country. The sources reportedly attributed the ban to increased scrutiny and awareness of the government's human rights abuses in Xinjiang.
Disney bet big on "Mulan" being a financial success in China and tried to make a movie that would appease the country's strict censorship agencies, going so far as to edit out a love scene—but the government's latest move may be more proof that its vision is backfiring.
Incredible. Disney, which hoped Mulan would be a hit w Chinese audiences, shot parts of the film in Xinjiang— a name now synonymous with internment camps. It even thanked some of the region's public security bureaus.

How did China repay Disney's support?https://t.co/APBpa5lWJA

— Megha Rajagopalan (@meghara) September 10, 2020
Disney has not responded to multiple requests for comment from The Times, The Wall Street Journal, or other outlets.
"This film was undertaken with the assistance of the Chinese police while at the same time these police were committing crimes against the Uighur people in Turpan," Uighur activist Tahir Imin, who is based in the U.S., said to The New York Times. "Every big company in America needs to think about whether their business is helping the Chinese government oppress the Uighur people."
In the film's credits, Disney thanks the police bureau in Turpan as well as other Chinese government authorities. The Trump administration blacklisted that bureau and others in Xinjiang in October 2019 in order to stop American companies from selling or supplying products to them. The Times reported that "it was not immediately clear [on September 8] whether U.S. officials would scrutinize Disney's work with government agencies in Xinjiang."
"It's sufficiently astonishing that it bears repeating: Disney has thanked four propaganda departments and a public security bureau in Xinjiang, a region in northwest China that is the site of one of the world's worst human rights abuses happening today." https://t.co/RFiuBUAPZ8

— Jake Tapper (@jaketapper) September 8, 2020
The director of "Mulan," New Zealand filmmaker Niki Caro, posted a photo from Xinjiang on her Instagram in September 2017. According to Architectural Digest, production designer Grant Major said his production team "spent months in and around the northwest province of Xinjiang to do legwork research before the cameras rolled."
One recent comment on Caro's Instagram post reads, "❤️ The people here are going to be killed ❤️."
"The fact that it was filmed in China and New Zealand? That's a dream project," Major told Architectural Digest, with no acknowledgment of the human rights atrocities in Xinjiang.
Groups have been calling attention to the treatment of Uighur Muslims, an ethnic and religious minority in China, for years. Human Rights Watch said the camps have been operational since 2017.
In 2018, the organization published a report describing "Chinese government's mass arbitrary detention, torture, forced political indoctrination, and mass surveillance of Xinjiang's Muslims." Journalist Casey Michel wrote at The New Republic in July that the abuses are "tipping toward genocide" and observed that "China now plays host to the world's largest forced incarceration of an ethnoreligious minority anywhere since the Second World War." That report also noted that Chinese Communist Party officials "assign male Han Chinese to sleep in the same beds as the wives of the Uighur men detained." (Disclosure: The New Republic writer is married to the author of this article.)
The cultural content of the new movie is relevant as well: much like the Chinese government has long pushed the supremacy of Han Chinese, a writer in The Guardian noted that "over time [Mulan's] nomadic identity has been removed, and replaced with that of the dominant Han ethnicity."
"So claiming this new Mulan is an 'authentic' version of the legend is especially ironic at a time when China is cracking down on Mongolian cultural identity alongside the imprisonment and 're-education' of Xinjiang Uighurs," Jingan Young wrote.
In 2019, a group investigating human rights abuses in China told the United Nations that China is harvesting prisoners' organs. Many detainees have reportedly "disappeared" into the vast prison system in the region as well.
"Many relatives of the detained living abroad have told us they still have no contact with family members in Xinjiang," a February 2020 HRW report said.
People are calling for a boycott of Disney's live-action 'Mulan' after learning scenes were reportedly filmed at a location where more than 1 million Uyghur Muslims are being detained pic.twitter.com/7tU7XRrZkj

— NowThis (@nowthisnews) September 10, 2020
This week, more than 160 human rights groups also signed a letter to the International Olympic Committee asking them to reverse the decision to hold the 2022 Winter Olympics in Beijing. CNN reported that the letter is "signed by human rights organizations on every continent" and "said that the actions of the Chinese central government in Xinjiang, Tibet, Hong Kong and Inner Mongolia showed the country was unworthy to host the Winter Olympics."
People buy tickets for Disney's "Mulan" film at a cinema inside a shopping mall in Bangkok on September 8, 2020. The movie is facing fresh boycott calls after it emerged some of the blockbuster was filmed in China's Xinjiang, where widespread rights abuses against the region's Muslim population have been widely documented. (Photo by LILLIAN SUWANRUMPHA/AFP via Getty Images)