Doctors Told This Olympian She Was Fine. But An Undiagnosed Illness Nearly Consumed Her Life
"I fought for my life" — Three-time Olympic gold medalist Gail Devers had just started her professional track and field career when a mystery disease almost derailed her success.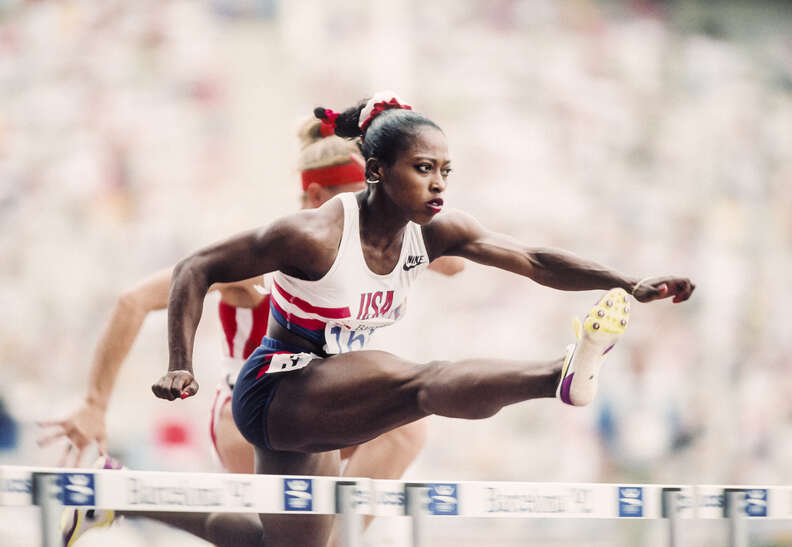 Before Gail Devers became a three-time gold medalist and Olympic hall-of-famer, she was told by doctors that there was nothing wrong with her — even as her hair fell out and her weight dropped dangerously low. But the track and field star knew her body better than anyone else and didn't give up.
Devers was faced with a mysterious illness at the onset of her professional career that threatened to upend all of her hard work and success. The now five time Olympian's journey to the top after her body nearly failed her, has led to a lifestyle change and now, she's applauding other athletes who speak up and put their health first.
"I became an advocate for my own health," Devers said in an interview with NowThis.
Devers' body slowly deteriorated for unknown reasons following her first Olympic appearance at the 1988 games in Seoul, Korea. The illness she was facing would later turn out to be the thyroid disorder known as Graves' Disease, but Devers went nearly three years without a diagnosis.
"I made my first U.S. Olympic Team in 1988, but didn't make it to the finals and ran slower than I had ever run since high school," she said. "I knew something was wrong. Then 'the bottom fell out.' I got really sick."
The track and field star dropped down to nearly 80 pounds from her usual 120 and was chronically fatigued. She said her eyes bulged out so much that she couldn't shut them all the way. Her hair fell out and the signature long nails she sported became brittle and broken.
"During that time, I had to be sidelined. I couldn't run, I couldn't train," Devers said. "Track and field was my life and I fought to get it back, to be able to do what I wanted to do to go back to the Olympic games."
Devers said initially, doctors told her there was nothing wrong with her, despite her obvious fragile state. But she continued to do her research and found other doctors that could give her an answer.
"You start to think you're crazy," Devers said, who also faced tough questions about why she had lost so much weight.
"People who didn't know me on the outside were like, 'Are you on drugs? Are you anorexic?' No, that's not it. I don't know what's wrong with me," she continued.
Devers said she eventually retreated into her home because she "got tired of questions that I didn't have answers to" and covered the mirrors in her house. "Imagine waking up every morning to wash your face or brush your teeth and you cannot stand the person that's looking back at you."
It wasn't until Devers saw a team physician at the University of California Los Angeles where she ran track, who suggested that she might have an issue with her thyroid and sent her to get tests done. That's when she finally got an answer.
"It was like oh my gosh, relief. Finally," Devers said.
By the 1992 Olympic Games in Barcelona, Spain, Devers was back on the track and won her first gold medal in the women's 100-meter, and again secured the top spot at the 1993 World Championship. Devers became the second woman to defend her gold medal at the 1996 Olympics in Atlanta, Georgia, and went on to compete in the 2000 and 2004 games. She has since been inducted into the United States Olympic Hall of Fame and the National Track & Field Hall of Fame.
"That was one of the toughest things I went through. I fought for my life — literally fought for my life to get back. I kept saying I just want to catch up to the old Gail," she continued.
Athletes' physical and mental health has been at the forefront of discussion during the 2020 Tokyo Olympics after prolific gymnast Simone Biles pulled out of several events after experiencing a phenomenon known as the "twisties," where gymnasts sometimes have the sudden sensation of being lost in the air. Biles, who is often hailed as the greatest gymnast of all time, said her decision to back out was so that she could prioritize her mental health — a statement that received both backlash and praise. Devers, however, gave Biles a round of applause.
"It took a lot of guts — this is the biggest stage, this is like the Super Bowl for us," Devers said of Biles's decision. "Think about physically — forget about what she's competed and where she's competed and the 'GOAT' and all of that kind of stuff. To hurl your body 12 feet in the air and lose sight of where you are, think about the damage that could have been done."
Devers added that seeing Biles passionately cheering on her teammates showed who she truly was, adding: "It had nothing to do with gymnastics, it was that this is somebody who is very supportive of other people — teammates or not — she's just supportive. That's the person that we love."
As the dialogue about mental health becomes less stigmatized than it has in the past, Devers said she's happy to see the standard mentality for athletes is no longer "shut up and train."
"If it takes the biggest stage for somebody to pull out, or athletes to pull out, for people to talk about 'hey, it's real. It's real in everybody's life,' for us to start talking about it and making changes, then it was all worth what we're going through right now," Devers continued.
As for having to overcome her own mental and physical health issues, Devers said she wouldn't have wanted it any other way.
"If I had my life to live over again, I would live it the same because it's brought me on this journey," Devers continued. "It's taught me that I'm tougher than I thought I was."
The gold medalist has since prioritized her own health by partnering with the wellness company Thorne, and proudly says "age is just a number" — a fitting statement for Devers, who famously ran in her last professional race at the age of 40.
"I still do the same things, I'm still the same person. It's just you don't see a USA uniform on me," she continued. "Everybody deserves to be healthy and deserves that quality of life no matter where you are in your life… If you're no good to yourself, then you're no good to anyone else."