Dogs In Finland Are Being Trained To Sniff Out COVID-19 In Humans
A new trial is underway at Helsinki Airport where dogs are being trained to detect COVID-19 in volunteers.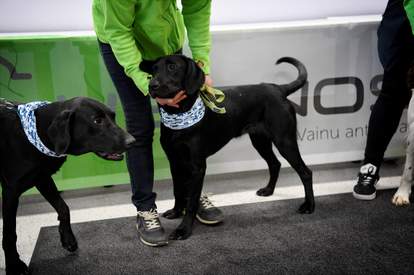 Researchers are tapping the powerful noses of dogs to help detect COVID-19. In one experiment, researchers in Finland are dispatching dogs at a local airport to sniff out the virus.
On Tuesday, the Helsinki Airport put a group of 10 dogs to work as part of a new training program that could help detect the coronavirus in travelers at airports. Earlier research conducted at the University of Helsinki in May found that dogs can "reliably and quickly identify" the virus in a person.
The training at the airport is voluntary and only requires about a minute of passengers' time, according to multiple outlets citing researcher Anna Hielm-Björkman. The volunteer will wipe their skin with a swab and put it in a cup for the dog to sniff. Volunteers do not come in contact with the dogs.
The volunteers can then head to the airport's health center to receive a more traditional nasal test for COVID-19 to test the dog's smelling accuracy.
The dogs are being trained in part by an organization called WiseNose, which researches and trains dogs to detect cancer and other diseases. Researchers say a dog's sense of smell is incredibly useful and can detect a smaller amount of the virus than a swab test would.
Research at the University of Veterinary Medicine Hannover in Germany showed that dogs were able to detect the virus in a person's saliva with a 94% success rate.
The UK launched a similar training program with the organization Medical Detection Dogs, which trains dogs to smell cancers and diseases, such as Parkinson's, in humans.
Similar research is being conducted in the United Arab Emirates, where police dogs are being used to detect COVID-19 in travelers.
While some dogs and cats who have interacted with an infected person have tested positive for COVID-19, the World Health Organization said there is no current evidence to suggest animals can transmit the virus to humans.