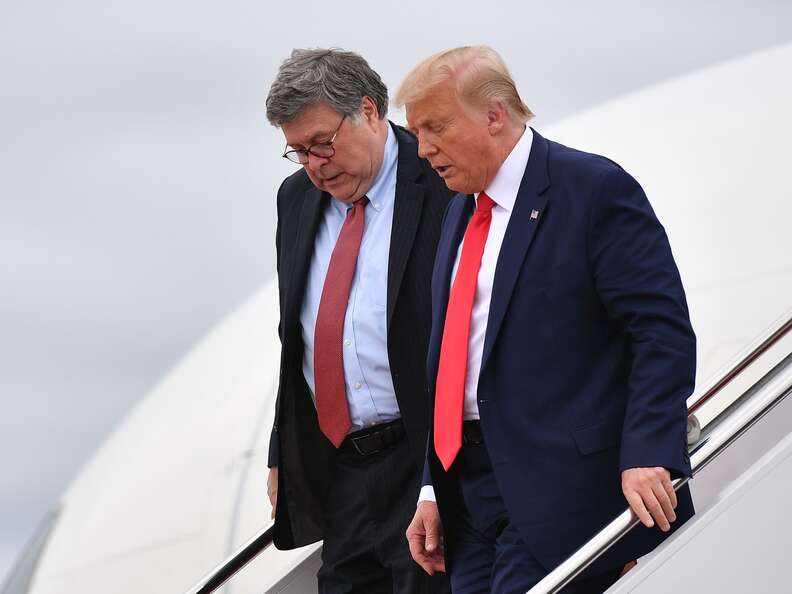 The Department Of Justice announced Monday that it has declared New York City, Portland, Oregon, and Seattle, Washington "anarchist jurisdictions" and threatened to withhold their federal funding. Leaders in those cities swiftly condemned the move as unlawful.
The DOJ's move is in response to President Trump's earlier memorandum which ordered the Office of Management and Budget to review federal funding to those same jurisdictions that the administration said are "permitting anarchy, violence, and destruction."
The DOJ said it declared the areas "anarchist" based on local and state governments' failures to "enforce the law," reducing funds for their police departments, and refusing law enforcement assistance from the federal government.
The president's earlier memorandum, released on September 2, stated that the federal government has the power to "restrict or otherwise disfavor" funding to these cities — all of which have seen frequent demonstrations in the wake of George Floyd's death.
The latest declaration is part of the Trump administration's continued attack on the nationwide protests against police brutality and systemic racism and efforts to paint cities led by Democratic mayors as poorly run — a depiction that he has repeatedly brought to the campaign trail. The DOJ referred to the protests as "marred by vandalism, chaos, and even killing" in its announcement.
While some demonstrations have led to looting or violence, a recent study by the U.S. Crisis Monitor found that the summer anti-racism protests were largely peaceful. According to the study, in more than 93% of "all demonstrations connected to the movement, demonstrators have not engaged in violence or destructive activity."
The DOJ also stated that Portland, Seattle, and New York City have publicly and "forcefully" rejected federal law enforcement as the protests ensued. The DOJ cited Seattle's autonomous protest zone, which gained nationwide attention and was later disbanded this summer."
"We cannot allow federal tax dollars to be wasted when the safety of the citizenry hangs in the balance," Attorney General William Barr said in a statement. "When state and local leaders impede their own law enforcement officers and agencies from doing their jobs, it endangers innocent citizens who deserve to be protected, including those who are trying to peacefully assemble and protest."
Trump's memorandum on September 2 stated that the Office of Management and Budget had 30 days to reevaluate the funds to those jurisdictions.
It's not immediately clear which federal dollars the cities would lose. According to multiple reports, New York City could potentially lose up to $7 billion in federal funding if the DOJ moves forward with the threat.
On Monday, New York Gov. Andrew Cuomo (D), New York City Mayor Bill de Blasio, and New York Attorney General Letitia James dismissed the White House's threats of withholding funds. Both Cuomo and de Blasio called the move "unconstitutional."
De Blasio said: "I saw anything but anarchy. So this is just another one of President Trump's games. It's thoroughly political."
On a conference call Monday, Cuomo said: "If you remember, the Trump administration tried this once before a couple years ago. They said sanctuary cities would not get federal criminal justice monies. We said it was illegal and unconstitutional, we sued them and we won."
Seattle Mayor Jenny Durkan, who sparred with the president multiple times over the summer, called the Trump administration's latest declaration "a gross misuse of federal power and blatantly unlawful."
The DOJ said it was working on identifying other areas that also fit the "anarchist" designation under Trump's memorandum.