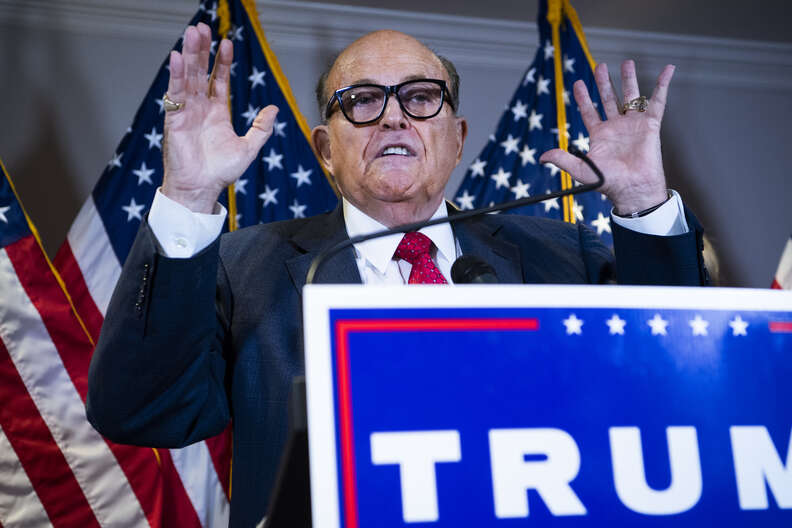 Dominion Voting Systems filed a defamation lawsuit on Monday seeking more than $1.3 billion from Rudy Giuliani, one of former President Donald Trump's lawyers, who it says spread baseless voter fraud theories specifically related to the company's machines.
Dominion's legal team filed the suit in federal court in Washington, D.C., and claimed that Giuliani and his allies duped Americans into believing that Dominion voting machines "had stolen their votes and fixed the election."
Giuliani for months led the charge as part of Trump's legal spree that involved filing dozens of lawsuits in key swing states challenging the results of the 2020 election, which overwhelmingly failed in court.
In the suit, Dominion's team claimed that the founder and employees of the voting systems company were harassed and received death threats as a result of the "defamatory falsehoods" perpetuated by Giuliani "in concert with" allies and right-wing news outlets. The lawsuit also said Dominion suffered "unprecedented and irreparable harm" as a result of the conspiracy theories.
"Even after the United States Capitol had been stormed by rioters who had been deceived by Giuliani and his allies, Giuliani shirked responsibility for the consequences of his words," the lawsuit claimed.
The lawsuit goes on to allege several instances of Giuliani spreading a false narrative about Dominion's voting machines helping rig the election, including during appearances on Fox News, OANN, and his podcast "Common Sense." The lawsuit claimed that Giuliani, along with attorney Sidney Powell, concocted the idea to falsely blame Dominion's machines, without evidence, for Trump's loss. Earlier this month, Dominion sued Powell in a separate defamation lawsuit also seeking $1.3 billion in damages, according to the Washington Post.
According to the suit against Giuliani, the former New York City mayor asserted the conspiracy theory that Dominion "really is a Venezuelan company" and uses software from a company that aimed to "fix elections" for the late Hugo Chávez, which the company rebukes in the suit. It states that Dominion "was founded in 2002 in John Poulos's basement in Toronto to help blind people vote on paper ballots." According to the company's website and the suit, it also has a primary location in Denver.
"The disinformation campaign waged against my company is what prompts this legal action today," Dominion CEO John Poulos said in a statement. "Not only have these lies damaged the good name of my company, but they also undermined trust in American democratic institutions, drowning out the remarkable work of elections officials and workers, who ensured a transparent and secure election."
Dominion's lawsuit also cited a tweet that Giuliani posted a day before a mob of Trump supporters attacked the U.S. Capitol on January 6 as members of Congress were working to certify President Joe Biden's victory. Giuliani tweeted ahead of the insurrection, "WATCH This Before January 6th" and included a video of his "Common Sense" podcast that claimed Dominion voting machines "switched" thousands of votes.
Five people died as a result of the attack, including a Capitol police officer. Trump was impeached for the second time for "incitement of insurrection" after months of telling his followers that Biden's win was fraudulent.
The lawsuit claimed Dominion sent two letters to Giuliani asking him to retract his statements against the company, but Giuliani did not comply.
In a statement to the New York Times, Giuliani said the lawsuit is "another act of intimidation by the hate-filled left-wing to wipe out and censor the exercise of free speech."
"Dominion's defamation lawsuit for $1.3B will allow me to investigate their history, finances, and practices fully and completely," Giuliani told the Times. "As such, we will investigate a countersuit against them for violating these Constitutional rights."
Trump's allies including MyPillow CEO Mike Lindell went after Dominion for their electronic voting systems. Dominion threatened legal action against Lindell more than once if he did not retract his statements. During a press conference Monday, Thomas Clare, a lawyer representing Dominion, said the company "has not ruled anybody out" when asked if it would sue Trump, the Washington Post reported.