Dove Cameron's New Music Video Is a Response to Roe v. Wade and the Patriarchy
"This is a video to remind us that 'how it's always been' should never be a reason for desensitization or upholding broken systems."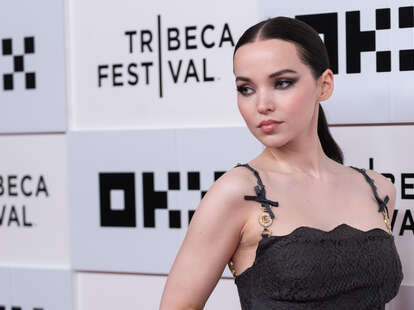 Dove Cameron attends the premiere of "Vengeance" during the 2022 Tribeca Festival on June 12, 2022, in New York City. Credit: Getty Images
Dove Cameron attends the premiere of "Vengeance" during the 2022 Tribeca Festival on June 12, 2022, in New York City. Credit: Getty Images
Actor and musician Dove Cameron, 26 is not holding back in her latest project: A provocative new music video for "Breakfast," the second single off her upcoming and currently untitled debut album.
In the video, which debuted on August 23, Cameron reimagines our current world. The singer inverts normative gender and societal roles to offer her fans an ironic illustration of the broader plight that besets women, especially after the Supreme Court's recent overturning of Roe v. Wade.
The video, which was directed by Lauren Dunn, sees Cameron and other women donning traditionally masculine garb and takes a sardonic look at several gender issues, like workplace harassment, the domestication of women in the household, and the dismantling of reproductive rights.
In addition to her music career, Cameron is well-known for her roles in Disney's "Liv and Maddie" and B.J. Novak's new film "Vengeance." In a statement released with the video, Cameron explained how the idea for the music video took shape.
"I was feeling incredibly disillusioned watching the recent SCOTUS ruling and I couldn't wrap my head around making a music video at a time when I felt so desolate," Cameron said. "With this video, I want to show the disturbing contrast between stylized femininity and masculine power and the gender stereotypes that plague our social commentary. I want the audience to notice how strange it is to watch the roles be reversed and it was important to highlight how ingrained these roles really are in our nervous systems."
The video concludes by encouraging viewers to support various women's rights organizations, such as Emily's List and the National Network for Abortion Funds.
"This is a video to remind us that 'how it's always been' should never be a reason for desensitization or upholding broken systems," Cameron said. "Hopefully, by re-contextualizing these familiar scenes, this video will encourage people to vote for a world where we leave gender discrimination as a thing of the past and stop bringing the past into the present."