Dr. Fauci Debunks False Claims That CDC "Quietly" Changed COVID-19 Deaths
Twitter removed a misleading tweet, which President Trump retweeted, that claimed only about 9,000 people have actually died of COVID-19. This is not true.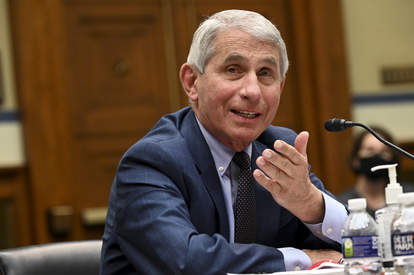 Dr. Anthony Fauci on Tuesday clarified a claim recently circulating online that only about 9,000 people have died of COVID-19. President Trump had retweeted a post containing the misinformation, which was mostly shared among QAnon followers — and Twitter quickly took it down.
The since-removed tweet, originally posted by "Mel Q," a follower of conspiracy theorist group QAnon, claimed that the Centers for Disease Control and Prevention "quietly" updated its COVID-19 deaths "to admit" only 6% of deaths from COVID-19 were from the virus alone. The other 94% had "2-3 other serious illnesses," the tweet stated. 
It also suggested that only around 9,000 people have died of COVID-19, instead of the more than 183,000 reported Tuesday by Johns Hopkins. 
According to the Washington Post, a Twitter spokesperson said "the tweet violated the company's coronavirus misinformation policy."
Dr. Fauci, the nation's infectious disease expert and White House coronavirus task force member, clarified the data on Tuesday during an interview with Good Morning America. 
"The point that the CDC was trying to make was that a certain percentage [of people who died] had nothing else but just COVID. That does not mean that someone who has hypertension or diabetes who dies of COVID didn't die of COVID-19. They did," Fauci explained. "So the numbers you've been hearing, the 180,000-plus deaths, are real deaths from COVID-19. Let there not be any confusion about that, it's not 9,000 deaths from COVID-19."
The tweet is based off of CDC data that has long been available on its website and categorizes "conditions contributing to deaths where COVID-19" is also listed on a person's death certificate. All of the deaths reported on the CDC website, however, list COVID-19 as a cause. 
Some of the 94% who died of COVID-19 and other conditions also had respiratory failure, pneumonia, cardiac arrest, heart failure, sepsis, and kidney failure listed as causes of death. All of those other conditions are considered complications of COVID-19. 
Many infectious disease experts and medical officials have long stated that people with underlying medical conditions are more at risk for severe cases of the virus. The CDC backed those claims with its data that showed a percentage of people living with conditions including diabetes and Alzheimer's died.
When asked on Monday if the president was trying to downplay the death toll by retweeting the misleading information, President Trump's press secretary Kayleigh McEnany told reporters that he was "highlighting new CDC information that came out that was worth noting."
The CDC information was not new.