Dr. Fauci Endorses Nationwide Mask Mandate For First Time As COVID-19 Cases Surge
"So let's put aside these extraordinary excuses for not doing it when we're dealing with a situation that's not trivial," Dr. Fauci said during an interview.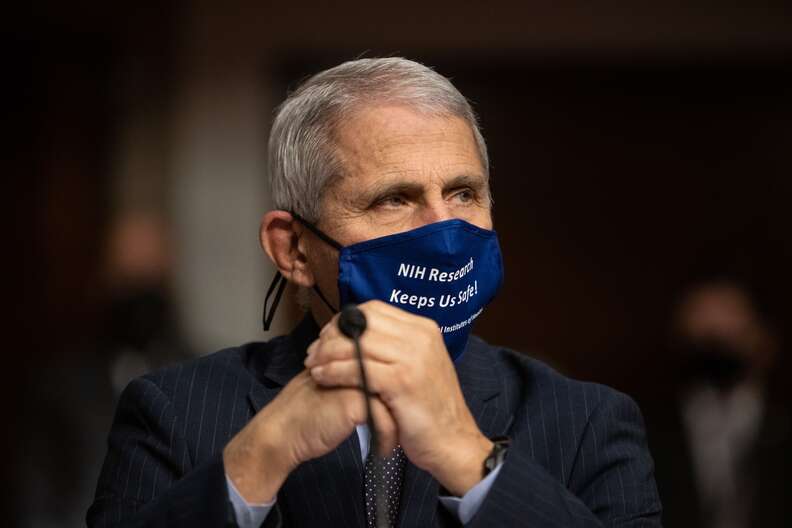 Dr. Anthony Fauci endorsed a nationwide mask mandate for the first time this week — a rule that other countries have successfully implemented.
During an interview with Dr. Howard Bauchner for the Journal of the American Medical Association on Wednesday, America's leading infectious diseases expert said the country needs a national mask mandate because of the inconsistencies in state rules so far. Fauci also said "we've got to get away from" masks being a political statement.
Bauchner compared the current partisan split over wearing a mask to past controversy over wearing a seat belt, which was unpopular with many Americans when it first became law — but is now universally accepted. Bauchner asked Fauci, "How do we get there with masking?"
"We get there by looking at the consequences of what happens when we don't," Fauci said. "Take a look at what's going on. Look at the data, it speaks for itself."
Fauci continued: "Countries that have done it the other way [with a national mandate] have done it and been successful. So let's put aside these extraordinary excuses for not doing it when we're dealing with a situation that's not trivial."
Fauci added that if trends continue as they have since the pandemic started, the U.S. could see 100,000 more deaths through the winter months, calling it "unacceptable."
During a follow-up interview with CNBC's Shepard Smith Wednesday, Fauci reiterated the need for a mask mandate.
"We've got to do something different. We can't just let this happen," Fauci said. "And that's the reason why I say you've got to do these things. You're using the word mandating masks, yes if that works, let's do it."
While Fauci expressed the need for a nationwide mask mandate, he noted it likely won't happen under the current administration. He also said he hasn't spoken to President Trump in "quite a while."
"I don't think it's gonna happen nationally," Fauci said. "It may not come from the White House to do it. If it doesn't, then I think that the mayors and the governors should do it."
Over the summer, Democratic presidential nominee Joe Biden called for a nationwide mask mandate. He later said after speaking to his legal team that he believes he would have the authority to enact a mask mandate via executive order if elected president — a major contrast to Trump's disregard for masks.
"Every governor should mandate mandatory mask wearing, the estimates by the experts are that it will save over 40,000 lives in the next three months. 40,000 lives, if people act responsibly," Biden said at the time. "It's not about your rights. It's about your responsibilities as an American."
Fauci also mentioned that the number of deaths and cases could have been significantly lower if there had been a different federal approach. As of Thursday, there are more than 8.8 million confirmed coronavirus cases in the U.S., including more than 227,000 deaths. According to Axios, infections are at an all-time high with five days left of voting in the presidential election.
"I have been saying that, Shep, for months now. That when you have a uniform response where all the states do things in a uniform manner with regard to masks, distancing, avoiding congregate settings, it would have been different than if we did it the way we did it," Fauci said.
Mask-wearing has been a contentious issue for months as cases continue to surge in the U.S. Many anti-mask wearers claim that being mandated to wear one impedes their rights, despite science proving that they are one of the most effective strategies for curbing the spread of COVID-19.
Other countries including France, Spain, India, and Thailand all require people to wear facial coverings when in public settings. Several others highly encourage it, but don't require it.