Dr. Fauci: COVID-19 Vaccine Could Be Widely Available In U.S. By April 2021
"Help is on the way in the form of a vaccine." —Dr. Anthony Fauci told CNN that the news of promising vaccine study results is "extraordinary," but that people need to continue following health measures.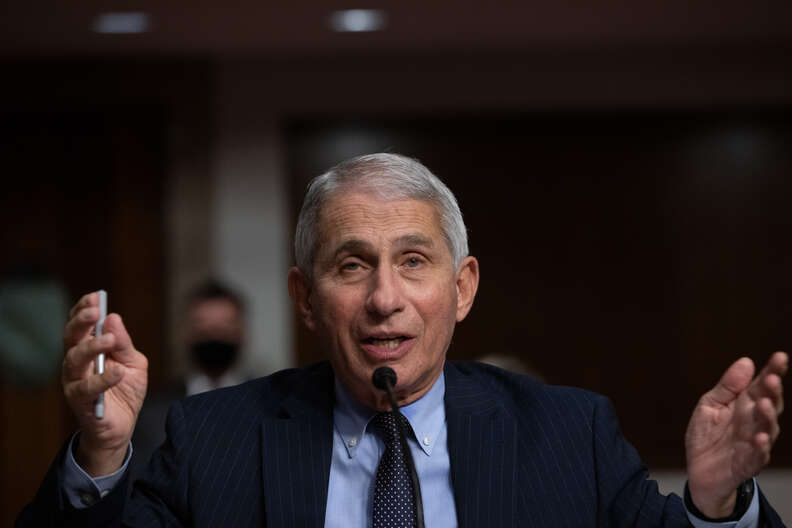 Dr. Anthony Fauci is predicting that the COVID-19 vaccine could be widely available to the general population by the end of April 2021. His time estimate came after pharmaceutical giant Pfizer announced that a vaccine in development was 90% effective at preventing the virus.
On Tuesday, Fauci, the director of the National Institute of Allergy and Infectious Diseases, told CNN's Jake Tapper that the news of the vaccine is "extraordinary" and that he expects it will be widely available by April.
"Again, these are just guesstimates," Fauci said.
Fauci said the Centers For Disease Control and Prevention will, with an advisory board, make decisions on prioritizing the vaccine for certain communities. He said high-priority groups will likely be medical workers, followed by people with underlying conditions that put them at high risk for the virus, along with older people. The rest of the population will be then "phased in" for the vaccine, Fauci said.
Fauci went on to say that part of the White House's "Operation Warp Speed" project has been focused on the logistics of distributing the virus and overcoming certain obstacles, including having to store the vaccine.
"The news of the vaccine should not get people to say that we don't need to continue to do the public health measures," Fauci said. "We likely will be able to start dispensing vaccines in December and progressively over the next few months. But in that interim, we could get into a lot of difficulty if we don't adhere to the public health measures."
He added that the vaccine, coupled with the precautions experts have been recommending for months, could be a "game changer" in slowing the spread of the virus — which has seen a surge in new cases since September. He told CNN that he's "concerned" about people who will choose not to get vaccinated right away, but expects more people to become comfortable with the idea after seeing its efficacy.
Fauci also said that "COVID-19 fatigue" is a real thing that people experience during the pandemic, and that it is "understandable," but reminded everyone, "don't give up." As cases continue to increase in several parts of the country, and some governors implement more restrictions, Fauci doesn't want people to think that it means a "shutdown."
"We're not talking about shutting down, there's always that misunderstanding when we talk about public health measures, we're not talking about shutting down," Fauci said. "We're talking about the four or five things I talk about all the time: wearing masks universally, keeping a distance, avoiding congregate settings, crowds, particularly indoors. Doing things much more outdoor than indoor, and washing hands."