Dr. Fauci: We're "Knee-Deep" In The Coronavirus Pandemic, And Trump Isn't Talking To Me
Dr. Fauci says "we are still knee-deep in the first wave" of the coronavirus outbreak, and that he hasn't met with Trump since June 2.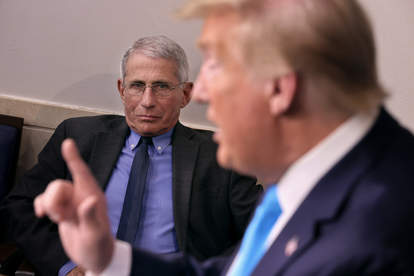 Dr. Anthony Fauci was once front and center at televised White House briefings, cautioning Americans every day for weeks at the outset of the pandemic. But now the head of the National Institute of Allergy and Infectious Diseases told the Financial Times that he hasn't met with President Trump in more than a month — and hasn't briefed him in at least two months.
Nonetheless, Fauci is going on his own press tour as the U.S. hits record single-day case increases, issuing warnings about public health and offering insight about the virus that continues to directly conflict with the President's public comments and tweets.
While Trump has repeatedly called for the reopening of schools this fall on Twitter and at White House discussions, Fauci has continued to urge caution. Earlier this week, Fauci asked that people understand "we are still knee-deep in the first wave of this."
He added: "And I would say, this would not be considered a wave. It was a surge, or a resurgency of infections superimposed upon a baseline," according to The Guardian.
Fauci also said "we have to realize" that states reopening too quickly is one reason the U.S. has seen such a meteoric rise in COVID-19 cases recently.
"I think we have to realize that some states jumped ahead of themselves. Other states did it correctly," he told the Financial Times. "But the citizenry didn't listen to the guidelines and they decided they were going to stay in bars and go to congregations of crowds and celebrations."
His latest comments echo what he said at a Senate hearing late last month about the U.S. "going in the wrong direction" and "not [being] in total control" of the outbreak. Of people going to bars, he said: "really not good."
"We really gotta stop that right now when we have areas that are surging like we see right now," Fauci said in late June, urging people to socialize outdoors rather than indoors in order to be safer.
The COVID-19 case numbers in many states have only worsened over the last week.
Related: Fauci Warns U.S. Could Reach 100K Daily COVID-19 Cases As States Walk Back Reopenings
While Fauci said he hasn't spoken to President Trump since June 2, he said he does meet with the White House coronavirus task force run by Vice President Mike Pence. When FT reporter Hannah Kuchler asked Fauci about Trump's July 4 claim that 99% of COVID-19 cases are "harmless," Fauci responded, "I'm trying to figure out where the president got that number. What I think happened is that someone told him that the general mortality rate is about 1 percent. And he interpreted, therefore, that 99 percent is not a problem, when that's obviously not the case."
"I have a reputation, as you probably have figured out, of speaking the truth at all times and not sugar-coating things," Fauci said to the FT. "And that may be one of the reasons why I haven't been on TV very much lately."
Despite rumored White House pressure to keep Fauci off televised briefings, the infectious diseases specialist has been testifying before Congress, doing Facebook Live interviews, and joining international press conferences in order to spread his public health message. He said he thinks the typical American disregard for authority has reached an "extreme," and laid a "foundation for the anti-vaccine movement, that we don't trust what the government is telling us," according to FT. And "that is very, very problematic right now," Fauci said.
The 79-year-old doctor and public health expert has served as director of NIAD since 1984 and worked through the AIDS/HIV and Ebola crises in that time.
"I have never seen a virus or any pathogen that has such a broad range of manifestations," Fauci told the FT, when explaining why he thinks there's such "extreme confusion" about the virus in the U.S., in addition to political leadership that spreads misinformation and muddles facts. "Even if [COVID-19] doesn't kill you, even if it doesn't put you in the hospital, it can make you seriously ill," Fauci said.
He is still "cautiously optimistic" about "safe and effective vaccine" development, as he told a virtual COVID-19 Conference hosted by the International Aids Society Friday. Fauci said it's important that multiple countries and companies keep working to develop a vaccine.
"We have a responsibility to the entire planet, not just the individual country that's making the vaccine," Fauci said, regarding vaccine availability. According to him, the companies that the U.S. is working with are "gearing up to make hundreds of millions of doses," and "some companies have promised a billion doses within a year"
Using a hockey analogy, Fauci said we have "multiple shots on goal, hopefully more than one success."