Public Outcry Forces New Investigations In Elijah McClain's Death
"This is a tragic and complex case that deserves close attention," Colorado Gov. Jared Polis wrote in an executive order requesting that the state attorney general investigate the 23-year-old's death, which happened last August in police custody.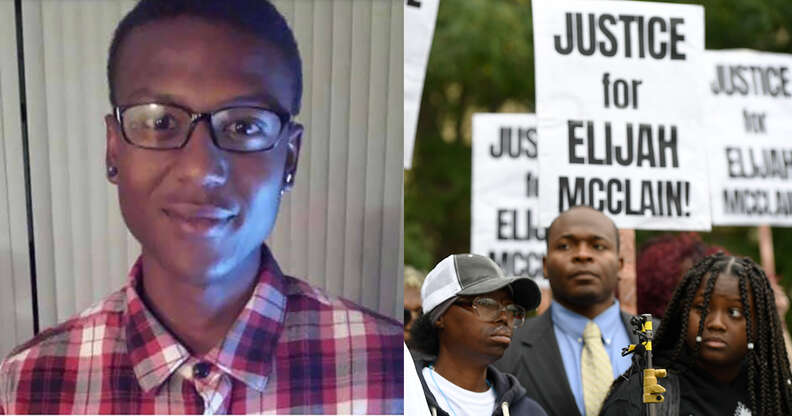 The Colorado state attorney general will investigate the death of Elijah McClain, a 23-year-old Black man who died in 2019 after he was forcibly detained and tackled by police while walking down the street in the city of Aurora.
Colorado Gov. Jared Polis (D) signed an executive order Thursday appointing attorney general Phil Weiser as a special prosecutor to investigate the case.
"At a bare minimum," McClain's family "deserve a thorough review of the case," Gov. Polis said in a statement accompanying the order, adding that he also spoke with McClain's mother.
The decision comes after weeks of mounting calls to reopen an investigation into the death, as well as nationwide protests against police brutality and systemic racism in the wake of George Floyd's death at the hands of Minneapolis police.
What happened the night of McClain's arrest
On the night of his arrest, August 24, 2019, McClain was walking home from a grocery store in Aurora around 10:30 p.m. while wearing a ski mask and carrying a bag of groceries. His sister told local ABC affiliate KMGH that he wore the mask because he "had anemia and would sometimes get cold." McClain, who was not armed, was listening to music in headphones.
Someone called 911 to report him as suspicious and said he was "acting weird" by "waving his arms around," according to the District Attorney Dave Young.
Aurora Police Officer Nathan Woodyard arrived first before two other officers, Jason Rosenblatt and Randy Roedema, joined him. Woodyard told McClain to stop walking, but McClain continued walking. The officers then grabbed and tackled McClain, and an officer can be heard saying in bodycam video footage, which was released several months later, "Stop tensing up, dude."
McClain is heard struggling and telling the officers he was "just going home," "I'm an introvert, I'm different, I'm just different," and "I don't do any of that stuff, I don't do any fighting … I don't even kill flies."
The officers are heard saying again he was "acting suspicious" and "he was hitting at us … he threw up," while McClain is heard saying he is in pain. The officers forced McClain into the grass and told him they were about to use a Taser on him. McClain can be heard saying, "I can't breathe, please stop" as the officers straddled him before putting him in a "carotid control hold." One officer claimed McClain had reached for one of their guns.
The officers called paramedics as McClain vomited into the grass. Aurora fire officials who responded said McClain "appeared to be showing signs of excited delirium," and they used ketamine to sedate him.
According to the DA, a fire medic said that "ketamine is the drug to be administered per AFD protocol when someone is showing the signs of exciting delirium which includes hyper aggression, tachycardia, diaphoretic, and increased strength."
The medic also said that after McClain was placed onto a gurney, his "chest was not rising on his own, and he did not have a pulse. Cardiopulmonary resuscitation and medication were administered to Mr. McClain and he was taken by ambulance" to a hospital. McClain went into cardiac arrest on the way to the hospital and "suffered brain damage," according to the Denver Post and several subsequent reports. His family said he was covered in bruises. McClain was declared brain dead on August 27 and placed on life support until August 30, six days after the arrest, when he died, the DA said.
Aurora police did not release the body cam video until November. Police said all three body cameras "became dislodged" during the incident, making it difficult to see what the officers were doing. In the released footage, an officer is heard saying during the struggle, "Move your camera, dude," and later "leave your camera there." The Cut reported that one officer was also heard admitting McClain had not done anything illegal.
The Aurora Police Department conducted an internal investigation and concluded the officers, who were placed on administrative leave at the time, "acted within the bounds of acceptable policy and training," according to the Washington Post. The local DA decided not to bring any criminal charges against the officers, saying "the evidence does not support the prosecution of a homicide," and the cops returned to work. An autopsy report said McClain's cause of death was "undetermined."
After George Floyd's death, activists demanded renewed attention for McClain's case
After the case attracted renewed attention in the wake of surging Black Lives Matter protests, including a Change.org petition that now has more than 3 million signatures, Aurora City Manager Jim Twombly said on June 9, 2020 that there would be an independent investigation into McClain's death. The city manager appointed a former police officer, attorney Eric Daigle, to lead the investigation, which city council members decried. Mayor Mike Coffman then stepped in, saying he terminated Daigle's contract and that "another individual will be selected by the Mayor and the City Council" to review the case.
Now, with the governor's executive order, the state attorney general will also conduct its own independent investigation. Colorado AG Phil Weiser said in a statement, "Elijah McClain should be alive today. His life mattered and his death was tragic. The pain, frustration, and anger that his family and many Coloradans are feeling from his death is understandable and justified. Whenever someone dies after an encounter with law enforcement, the community deserves a thorough investigation. Our investigation will be thorough, guided by the facts, and worthy of public trust and confidence in the criminal justice system."
Weiser also acknowledged the review planned by the city of Aurora and said his office "support[s] their efforts and encourage[s] them to take the necessary time so that their effort is truly independent and effective."
The AG concluded the statement: "In order to maintain impartiality and integrity in the process, we will not have further comment on this case until we announce our findings."
If the attorney general finds facts that "support prosecution," the governor has asked that he "criminally prosecute any individuals whose actions caused the death of Elijah McClain."
Polis's appointment of Weiser as special prosecutor comes just days after he signed a sweeping police reform bill into law, passed by the state legislature. According to civil liberties lawyers and experts, it is some of the most comprehensive legislation passed since the death of George Floyd on May 25. The Denver Post described it as "historic."
New and historic legislation in Colorado could affect the McClain case
A key part of the new legislation is that it removes qualified immunity for cops, meaning "victims or their families can sue police officers in their individual capacities for constitutional violations and those officers can be held personally liable," according to the Denver Post. That also means if a DA declines to pursue criminal charges, as initially happened in the McClain case, families can pursue accountability in civil courts.
In an interview with NowThis the day before he signed the bill, Gov. Polis said, "This bill really shows that even before the George Floyd murder, this was on our minds here in our state, having witnessed the rise of police involved shootings, the lack of independent investigations in some cases. So this really remedies something that has been a problem in our state." The bill sets limits on police use of force, including limiting cops' legal ability to shoot at fleeing suspects, bans chokeholds, and mandates criminal charges for officers who don't intervene when a fellow officer is violating policies.

Aurora Interim Police Chief Vanessa Wilson also announced on June 9 "that officers would be banned from using carotid holds, and obligated to intervene when they see another officer use excessive force," the Washington Post reported.