Ella Jones Elected The First Black Mayor Of Ferguson
"It's just my time to do right by the people."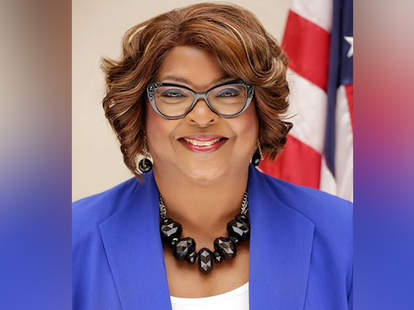 Voters in Ferguson elected Ella Jones on Tuesday as their first Black mayor — nearly six years after the Missouri city became a national center for protests against police brutality in the wake of Black teenager Michael Brown's death at the hands of a police officer.
Councilwoman Jones secured 54% of the vote over fellow Councilwoman Heather Robinett, according to local reports. Having already made history in 2015 as the first Black woman elected to the city council in Ferguson, she ran for mayor in 2017 but lost to incumbent candidate James Knowles III.
According to Ferguson's website, Jones, 65, has lived in the city for more than 40 years. After she worked for 30 years as a Mary Kay Sales Director and  served 22 years as a Pastor in the African Methodist Episcopal Church, she pivoted to local politics. 
"It's just our time,"she told the St. Louis Post-Dispatch on Tuesday Night. "It's just my time to do right by the people."
Jones' victory in Ferguson is particularly significant as protesters take to the streets nationwide over the death of George Floyd after Minneapolis police officer Derek Chauvin kneeled on his neck and choked him. Chauvin was one of four officers fired following the incident, and was recently taken into custody and charged with third-degree murder and manslaughter.
In 2014, Ferguson and other cities nationwide underwent weeks of protests after Brown, 18, was shot unarmed by former officer Darren Wilson. A grand jury and the Department of Justice ultimately decided not to prosecute Wilson.
According to the St. Louis Post-Dispatch, both Jones and Robinett ran on platforms of  implementing changes in the city in light of the 2014 unrest. They both also supported peaceful protesters demanding justice for Floyd. 
The Post-Dispatch also reported that absentee voting soared in the city, after elections were delayed due to the coronavirus.