Ellen DeGeneres Has COVID-19, And Her Show Is Now On Hold
The announcement of her COVID-19 diagnosis follows a report from BuzzFeed News that the "The Ellen DeGeneres Show" is losing advertisers and struggling to book high-profile guests.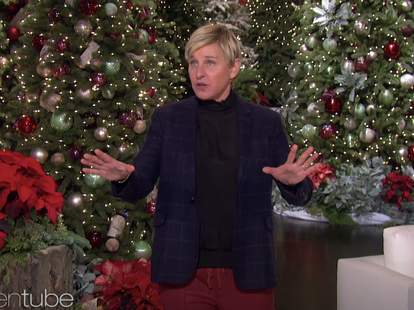 Ellen DeGeneres, who has faced backlash in recent months following explosive accusations of a toxic work environment, has tested positive for COVID-19, and her show's production is now on hold.
DeGeneres announced on Twitter Thursday that she had tested positive for the virus.
"I want to let you all know that I tested positive for Covid-19," she wrote. "Fortunately, I'm feeling fine right now. Anyone who has been in close contact with me has been notified, and I am following all proper CDC guidelines. I'll see you all again after the holidays. Please stay healthy and safe."
A statement from Telepictures obtained by several news outlets said, "Following Ellen's announcement this morning, we have paused production on the Ellen DeGeneres Show until January."
News of the celeb talk show host's COVID-19 diagnosis follows a report from BuzzFeed News published on Wednesday that the "Ellen Show" is seeing a dip in ratings, losing advertisers, and struggling to book high-profile guests following allegations of the show's abusive work environment. Representatives for Warner Bros. declined comment to BuzzFeed News.
Though the "The Ellen DeGeneres Show" resumed filming in-studio in September, and DeGeneres addressed the allegations in an on-air apology during the season 18 premiere, the report alleges that the show is receiving less advertising money and that staffers are struggling to produce new content. Unnamed publicists interviewed in the report also told BuzzFeed News that some clients have specifically said they don't want to appear on the show. Meanwhile, Variety reported that the show's "12 Days of Giveaways" led to "hit its highest rating since May during the week ending Nov. 29."
In July, BuzzFeed News published an explosive report detailing the alleged toxic environment on the "The Ellen DeGeneres Show," with several former and current employees accusing senior producers of perpetuating an abusive workplace. Former and current staffers also alleged that they were told by management not to look at or talk to DeGeneres around the office. Other reports that followed corroborated their accounts.
WarnerMedia launched an investigation about the accusations in late July. In August, executive producers Ed Glavin and Kevin Leman, along with co-executive producer Jonathan Norman "parted ways" with the show, the entertainment company said. DeGeneres reportedly apologized to her staff after the three producers were ousted, saying "I'm a multi-layered person, and I try to be the best person I can be and I try to learn from my mistakes."
Ashleigh Carter contributed to this report.