Ellen DeGeneres Is Ending Her Talk Show After Toxic Workplace Allegations And Sinking Ratings
DeGeneres said in an interview with The Hollywood Reporter that she made the decision to end the show in 2022 so she can pursue other projects.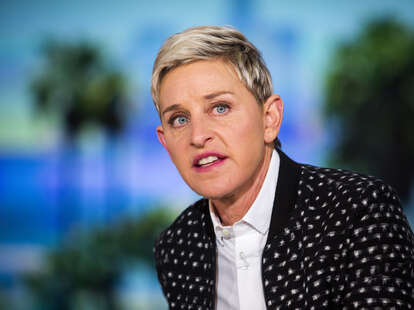 Ellen DeGeneres announced Wednesday that her daytime talk show "The Ellen DeGeneres Show" will end after its next season in 2022 in an interview with The Hollywood Reporter (THR).
The announcement comes as ratings for the daytime talk show have plummeted. According to the New York Times, the show lost more than a million viewers between September and March. The decrease in viewership followed reports of a toxic workplace and allegations of sexual harassment leveled at three of the program's top producers, who were later fired. DeGeneres apologized herself for the allegations on-air in September, vowing to "start a new chapter."
DeGeneres told THR she made the decision to end the show in order to pursue other projects.
"I'm a creative person, and when you're a creative person you constantly need to be challenged," DeGeneres, who has won 64 Daytime Emmys for her talk show, said. "And as great as this show is, and as fun as it is, it's just not a challenge anymore. I need something new to challenge me."
DeGeneres has entertained the idea of quitting the show in the past, telling the New York Times in 2018 that while her wife, Portia de Rossi, told her to move on from the talk show, her brother encouraged her to keep going. At the time, DeGeneres signed onto a contract for three more seasons, with the 19th season being her last.
"[My brother's] always been my biggest advocate and, not that Portia isn't, but she's also selfish and wants me to do things that I'm challenged by and she's watched me come home every day saying, 'I just feel like there's something more I could be doing,'" DeGeneres said to THR.
"The Ellen DeGeneres Show" began in 2003 and became an establishment on daytime TV. In recent years, however, DeGeneres and the show were heavily scrutinized, casting doubt on the authenticity of the host's "be kind" mantra. In one high-profile instance, DeGeneres interviewed comedian Kevin Hart in 2019 following his recent announcement that he would not host the upcoming Oscars after old homophobic jokes resurfaced. DeGeneres, who came out publicly in 1997, used the interview to try and convince Hart to take the gig back up, and as a result, faced heavy blowback. (The 2019 Oscars did not end up having a host).
DeGeneres ran into another controversy later the same year when she delivered a four-minute-long monologue defending her unlikely friendship with former president George W. Bush.
Matters became more serious in 2020, when BuzzFeed News published two bombshell reports about the work culture on the set of "The Ellen DeGeneres Show." In July, BuzzFeed News reported that several employees said they "faced racism, fear, and intimidation" on the set of the show. Warner Bros., which distributes DeGeneres' show, launched an investigation soon after.
"We are disappointed that the primary findings of the investigation indicated some deficiencies related to the show's day-to-day management," Warner Bros. said in a statement according to BuzzFeed News.
Later in July, the news outlet reported that three top producers of the show — Jonathan Norman, Kevin Leman, and Ed Glavin — had allegedly sexually harassed and assaulted employees. In August, DeGeneres announced that the three men had been fired.
DeGeneres told THR that while the allegations of a toxic workplace impacted the show, they are not the reason she is ending the show.
"If I was quitting the show because of that, I wouldn't have come back this season," DeGeneres said.
She continued: "It broke my heart when I learned that people here had anything other than a fantastic experience — that people were hurt in any way. I check in now as much as I can through Zoom to different departments and I make sure people know that if there's ever a question or ever anything, they can come to me and I don't know why that was never considered before ... I just want people to trust and know that I am who I appear to be."
As for what's next, DeGeneres was ambiguous but said she's been advised to "sit still" for a bit.
"I don't know how long I'll be able to do that because I'm like a Ferrari in neutral," DeGeneres said. "I'm constantly needing to go. So, that's my first challenge and then I'm going to figure it out."
The host informed the staff of the show on Wednesday that production will be ending in 2022. On Thursday, she will host Oprah Winfrey on her show to discuss her decision to end the talk show.