California County Allows Tesla Plant to Reopen After Elon Musk Defies Restrictions
"I will be on the line with everyone else. If anyone is arrested, I ask that it only be me."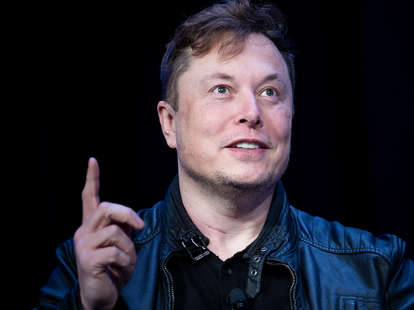 Elon Musk speaks during Satellite 2020 in March. Getty Images.
Alameda County announced it will allow Tesla to resume production after CEO Elon Musk reopened the company's California-based car plant on Monday despite a county-wide stay-at-home order.
The county's health department decided Tuesday night to allow the plant to reopen with new safety guidelines, according to Forbes. On Monday, Musk tweeted that his company would be going against Alameda County rules by resuming production at the Fremont assembly plant. He also wrote that he would be on the line with employees and ready to be arrested, if it came down to that.
In another tweet, he wrote, "Yes, California approved, but an unelected county official illegally overrode. Also, all other auto companies in US are approved to resume. Only Tesla has been singled out. This is super messed up!"
California Gov. Gavin Newsom said during a press conference on Monday that he was not aware of the plant reopening, but hopes the plant is given the go-ahead to resume production next week.
San Francisco's KPIX reported that employees were seen going in and out of the plant early Monday morning. Two anonymous employees at Tesla told The Verge that the plant had already started making cars again over the weekend.
Last week, Musk said Tesla was filing a lawsuit against Alameda County for its shelter-in-place order, claiming it "contradicts the Governor's Order to the extent it restricts the operation of business operating in the federal critical infrastructure sectors," according to The Verge. The order applies to six counties in the San Francisco area until May 31, CBS News reported.
Alameda County officials responded to Musk on Monday in a press release that said, "We have notified Tesla that they can only maintain Minimum Basic Operations until we have an approved plan that can be implemented in accordance with the local public health Order."
Musk has been open about his criticism of stay-at-home orders, tweeting about why "forced isolation is bad" and applauding states that decided to reopen at the end of April. He has also promoted conspiracies, touted unsubstantiated claims, and downplayed the risk of the virus. CNBC reported that the CEO called restrictions "fascist" during an earnings call in late April.
According to Tesla, the company is the largest manufacturing employer in the state of California, with more than 20,000 employees. The company said it implemented a thorough return-to-work protocol that includes video training and hiring an in-house physician to establish health and safety guidelines for the plant.