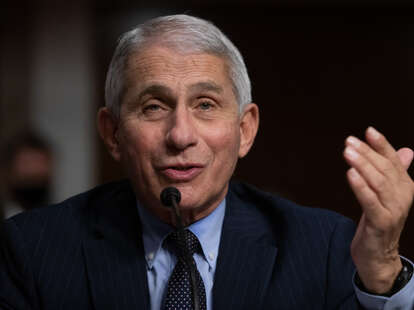 Infectious diseases expert Dr. Anthony Fauci was honored with a Lifetime Achievement Award for his work to fight the HIV/AIDS crisis during a virtual ceremony hosted by the U.S. Global Leadership Coalition.
The legendary singer Elton John commended Dr. Fauci during the event Tuesday on World AIDS Day, honoring him along with UN World Food Programme Executive Director David Beasley and UNICEF Executive Director Henrietta H. Fore. John has long advocated for preventing HIV/AIDS infections and ending the stigma surrounding the condition through The Elton John AIDS Foundation, which he established in 1992.
"There are very few people on this planet who have dedicated themselves to a lifetime of service to save millions of lives like Dr. Fauci," the singer said. "His unwavering commitment to public health and innovation has transformed the approach to HIV. And it is his leadership and persistence that will ultimately help us overcome the COVID-19 pandemic."
Dr. Fauci, the longtime director of the National Institute of Allergy and Infectious Diseases, has gained more recognition this year as a member of the coronavirus task force. But he also served as the first director of the NIH's Office of AIDS Research from 1988 to 1994 after serving as the National Institutes of Health's AIDS coordinator.
According to a report from CNN, Fauci also helped create the President's Emergency Plan for AIDS Relief In 2003. President George W. Bush's administration started the program to help people living with HIV/AIDS in developing countries.
During a conversation with former First Daughter Barbara Bush that was shown at the virtual Tuesday event, Fauci recalled the early years of the AIDS epidemic in the early 1980s as "putting Band-Aids on hemorrhages with no drugs available, watching literally all of my patients die."
When asked at the event if he believed he would see an AIDS-free generation in his lifetime, Fauci said that people must be persistent in fighting the deadly disease.
"When Covid essentially becomes the rearview mirror, HIV is still going to be there," he said. "And that's the thing that we have to do. We have to keep our eye on that and never let that -- the end game of ending this is, to me, we're going to get there, and we're going to get there while I'm still around, I can tell you."