Ethel's Club Is The First Private Social Space Designed For People Of Color
"We want Ethel's Club to feel like an extension of the place they feel the most comfortable, because people of color are rarely afforded the luxury of simply just being."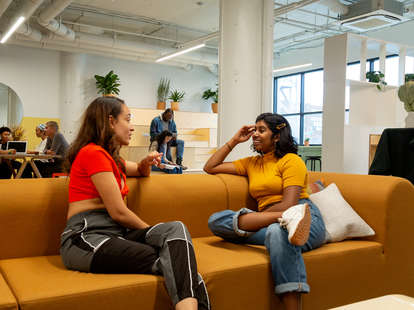 Photography: Courtesy of Frank Frances @FranFrancesStudio Interior Design: Shannon Maldonado @HelloYowie
Private communal spaces are popping up everywhere—between coworking megabrand WeWork and femme-friendly social club The Wing. But Naj Austin knew that people of color were being underserved when it came to social spaces—so she created the first-ever private social and wellness club to celebrate them.

Ethel's Club opened late last year, but quickly garnered an immense following, with thousands of New Yorkers signing up for their waiting list. Austin named the space after her grandmother Ethel Lucas—who she says made her own Edison, New Jersey home into a communal space that was constantly full of family, community and food. While bringing Ethel's Club to life, Austin made sure to keep her grandmother in mind.
"It was important to my grandmother that her home be catered to and centered around the people inside, who made it home," she explained. "I wanted to make sure Ethel's Club was built with the same intention, always thinking about how we can be a safe space that empowers, uplifts and makes space for communities of color."
In honor of Lucas, Austin wanted to create a space for more than just working and networking—somewhere dedicated to "healing, stimulating, and advancing people of color through powerful collaboration with one another." Along with the private space, members get to enjoy curated programing including reading, workshops, yoga and consultations with therapists. They also have residency programs for local artists, DJs, and musicians.
"We were inspired by the places that many of us, as people of color, feel safe. And time in and time again, many folks shared that being in their home, whether it was the home they were raised in or created for themselves," Austin said. "We want Ethel's Club to feel like an extension of the place they feel the most comfortable, because people of color are rarely afforded the luxury of simply just being."
For Black History Month, the space had plenty of special programming, including a happy hour in collaboration with Nappy Head Club, to discuss the legacy of the Black Panthers Ten Point Program; a Black Futures brunch, where they discussed what Black love and archival practices look like in the future; and a collaborative event with the Huffington Post centered around the power of Black hair and Black voting in the south. They're also opening an experimental music venue in the spring, and have a creator-centric marketplace for people to invest in/support products made by people of color.
More about Ethel's Club can be found here.