Etsy Is Flooded With Impeachment Merchandise
Some merchandise was available long before the Senate impeachment trial began, and sellers have found their forward-thinking creativity prescient.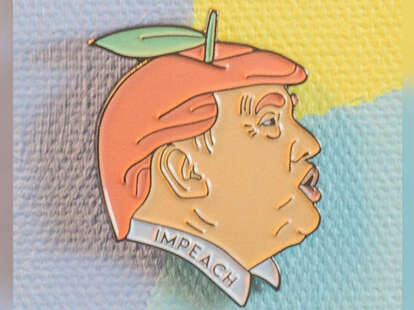 Baby hats. Car air freshener. Candles. Enamel pins. Many of these items for sale are flecked with a hint of orange—the color often associated with "impeachment."
Sellers on Etsy—the website popular among makers and handcraft buyers—are cashing in on the impeachment of President Donald Trump. Since House Democrats announced an impeachment inquiry last fall, people have seen sales rise behind their pro-impeachment wares. Some of that merchandise was available long before the Senate impeachment trial began on Tuesday, and sellers have found their forward-thinking creativity prescient.
Although the merchandise could have an inherently short shelf life, it's themed around the third presidential impeachment in the history of the United States; that alone could make for estate sale fodder one day. A search of the term "impeach Trump" on Etsy also generates more than 5,000 results (though not all of them are relevant), including lawn signs, T-shirts, pins, buttons, wine glasses, and mugs.
A $12 hard enamel pin featuring a peach, Trump-style hair, and glitter bubble text "IMPEACH" has been on sale at SeaMiceShop since 2016. The shop's owner Chelsea, 28, said that she noticed other impeachment-related material in 2016 and had decent sales, but saw demand wane a few months into the Trump administration as the daily glut of news became "status quo." She has also sold the $12 pin to independent stores in New York at wholesale prices.
"I really enjoyed the play on words with the emoji being symbolic of ass, and I don't know a bigger ass than our president," Chelsea told NowThis. "I knew a lot of other people in my community would appreciate the joke."
Chelsea said she's shipped the pin from Orange County, California to buyers across the U.S., including to states like Alabama and Georgia, which swung red in 2016. Since the impeachment proceedings began last fall, Chelsea said she's seen an "enormous lift in business" and a "renewed interest in Trump-bashing materials online." She added that she's been "lucky to sustain business," and if the item becomes irrelevant after the Senate reaches a final vote, the market will indicate it.
"It started as a tongue-in-cheek thing," she said, "it just happened to turn out that I was right."
Another seller Caroline Cooley, 26, told NowThis in an email that her impeachment-themed stickers stem from her "extreme distaste for our current president."
"When I created this design impeachment hadn't even been discussed in the political world yet," Cooley said in an email. "So this was really just wishful thinking on my part."
Cooley opened her shop on Etsy in September 2019 and listed the stickers a month later. She has sold more than 30 stickers.
For seller Laura Koles, 27, based in British Columbia, the decision to launch a store on the first day of the Senate trial was motivated by a desire "to make a quick buck."

Koles is selling an impeachment-themed air freshener for approximately $8 at her shop theFRESHfarm, which she launched on Tuesday night. The air freshener design process is fairly low-lift: she orders paper used for commercial air fresheners, hand cuts it, then glues on the image, adds fragrance oil, and ships it off.
Koles said that she still plans to enhance the shop and its advertising, as she currently is selling only two items. Even though she's based in Canada, she says the ongoing impeachment inquiry portrayed by the media "seems like an absolute Gong show."
"I think people are interested in buying [the impeachment air freshener] because this is a highly polarizing issue that is currently happening, and people like to express their political beliefs in any way that they can," Koles told NowThis. "My impression is that the U.S. is extremely divided right now, and it's very, very interesting to watch as an outsider."
She added: "We're all just on the edge of our seats, observing. I feel like I'm more of an observer, more of an objective observer."
The official Trump 2020 campaign store has its own set of impeachment-related merch. The store is currently selling two t-shirts displaying mocked images of Rep. Adam Schiff (D-CA), the lead impeachment manager and chairman of the House Intelligence Committee. The Trump shop reportedly previously offered more merchandise. A campaign spokeswoman told The New York Post that the sale "lets voters show their support of President Trump and stand against Democrats' partisan witch hunt."
During Halloween, the Nevada GOP was also offering graphic tote bags and t-shirts labeled "witch hunt"—a term frequently lobbied by Trump and his associates—in exchange for $50 donations.
If you aren't caught up on the latest in the Senate trial, the impeachment of President Trump has many implications even if he isn't ultimately removed from office. Here's an explainer on what impeachment actually means.