European Leaders Join U.S. In Calls For Deeper Inquiry Into COVID-19 Origins
After months of resistance from Chinese officials and an inconclusive WHO investigation, world leaders are demanding further study into a virus that has left nearly 3.7 million dead.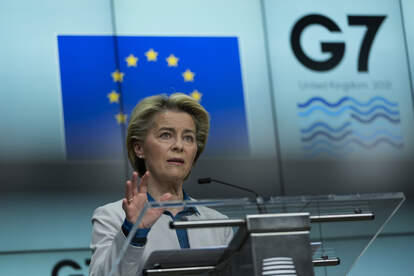 The European Union is joining the U.S. in calling for a deeper investigation into the origins of COVID-19 "in order to be able to learn the lessons," a top EU leader said, despite China's resistance to divulging information that would contribute to an inquiry.
EU leaders made the demand for a probe during a Thursday news conference ahead of the G7 Summit — an annual meeting of the seven most advanced economies in the world. President Joe Biden arrived in the UK on Wednesday for his first trip abroad as president. He will attend the three-day G7 summit expected to start Friday, and he'll meet with leaders including PM Boris Johnson and Queen Elizabeth II during his visit.
European Council President Charles Michel said during a speech Thursday that the EU fully supported another study into COVID-19's origins. The World Health Organization published a report in March 2021 after conducting its own investigation with Chinese scientists, which lacked definitive conclusions other than that the virus likely emerged from bats. The report, however, did dismiss the lab-leak theory, which speculates that the virus was spread after accidentally emerging from an virology lab in Wuhan.
Many experts and leaders questioned the WHO report, including the organization's director-general, Dr. Tedros Adhanom Ghebreyesus, who said he does not "believe that this assessment was extensive enough." Australian researcher and epidemiologist Raina MacIntyre also criticized the WHO for quickly dismissing the lab leak theory "without strong evidence."
"The world has the right to know exactly what happened, in order to be able to learn the lessons," European Council President Charles Michel said during his Thursday speech.
In a draft obtained by multiple outlets, which outlines conclusions agreed upon between the EU and the U.S. before the summit, the two superpowers planned to call for a second study: "We call for progress on a transparent, evidence-based and expert-led WHO-convened phase 2 study on the origins of COVID-19, that is free from interference." The draft also asserted they were "not anti-China."
European Commission President Ursula von der Leyen echoed Michel's statement in speech directly after his on Thursday, saying, "It is of utmost importance that we learn about the origin of the coronavirus."
"There is this horrible pandemic, a global pandemic we have to know where it did come from in order to draw the right lessons and to develop the right tools to make sure that this will never happen again and, therefore, the investigators need complete access to whatever is necessary to really find the source of this pandemic," von der Leyen continued.
In May, President Biden said that he ordered U.S. intelligence to "redouble" efforts to investigate the origins of COVID-19 and report back to him in 90 days. The new effort came after the Wall Street Journal reported three researchers from China's Wuhan Institute of Virology were hospitalized with symptoms consistent with COVID-19 in November 2019 — one month before the first official reported case of the virus.
Chinese officials called the Journal's report "a complete lie," and the country's state-run media has attacked the U.S. and Dr. Anthony Fauci for what it calls "hyping up conspiracy theories." China has been resistant to inquiries and has not fully cooperated with investigations since the beginning of the COVID-19 crisis. China also silenced early whistleblowers in 2019 for trying to warn others about the severity of the virus, which has since led to a deadly global pandemic that saw more than 174 million cases worldwide, including at least 3.7 million deaths, according to Johns Hopkins University.