Event Companies for Coachella, SXSW Are Now Making Medical Facilities
As major festivals continue to be cancelled because of coronavirus, companies that were slated to put on those events have pivoted to helping hospitals instead.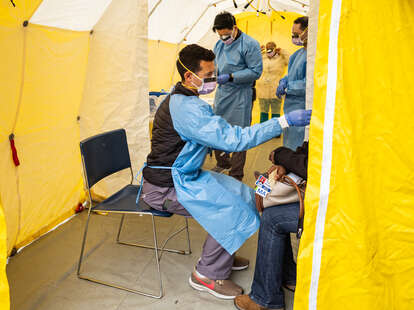 Getty Images
Getty Images
Multiple companies that are usually hired to set up stages and tents for events like Coachella have instead started building temporary medical facilities for coronavirus patients.
California-based production company, Choura Events, has so far built four medical facilities in the Los Angeles area at a time when the company would usually be preparing for events like South by Southwest Festival, the BNP Paribas Open tennis tournament, and Coachella. After major events were cancelled or postponed , Choura's 200 employees instead put their skills toward helping the COVID-19 pandemic.
With the unprecedented amount of patients who need medical treatment, hospitals across the country have started to run out of beds. So Ryan Choura, the founder of Choura Events, stepped in to build the temporary facilities that the medical community would need.
"We pivoted so fast to being a rapid-response disaster relief team," Choura told the Los Angeles Times. "If I didn't know how to do Coachella, I couldn't do this hospital… I saw patients coming in here and saw what they looked like. This is real, and we've got to move."
Another company, Gallagher Staging, has also stepped up to help COVID-19 relief efforts after its intended job of creating the main stage for Coachella was no longer needed. The company has made tented facilities, beds and other structures for hospitals in the San Francisco Bay Area.
"We're an industry that moves faster than anyone," Joey Gallagher, CEO of Gallagher Staging told the LA Times. "We'll install an entire city on a blank slate. We have everything available: Wi-Fi, radios, generators, lighting, restrooms and wash stations. We can build a small city in a day or two, and that's a need right now."
LA and Chicago-based event firm Upstaging, has also gotten involved by supplying and delivering face shields and dividers for hospitals, prisons, nursing homes, and more.
The growing need for basic medical facilities has become a nationwide issue, as the U.S. surpasses all other countries in the number of coronavirus cases—growing to more than 216,000 people as of Thursday. With hospitals being overwhelmed, New York State asked volunteers to step forward and help on the front lines, and has turned the Javits Center in New York City into a temporary medical facility.
The entertainment industry has seen a staggering number of event cancellations going into the summer months, putting thousands of people out of work. Concerts, movies, theater companies, and the music industry are projected to lose $12 billion of revenue if the coronavirus restrictions last into July, Forbes projects. Employees on teams like Choura's and Gallagher's are just a fraction of the more than 250,000 workers in the concert industry.