Facebook "Indefinitely" Bans Trump — But People Want Him Permanently Kicked Off The Internet
CEO Mark Zuckerberg said in a statement that "the risks of allowing the President to continue to use our service during this period are simply too great" — but many are pointing out that the damage on social media by Trump and his supporters has already gone way too far.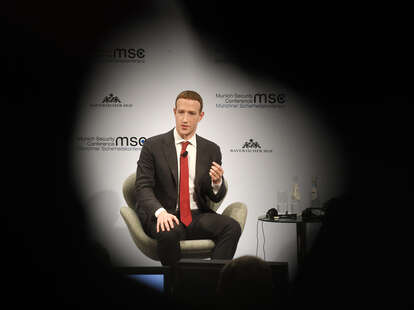 After temporarily suspending President Trump's Facebook and Instagram accounts on Wednesday in the wake of deadly pro-Trump riots in Washington, D.C., Facebook CEO Mark Zuckerberg said it is banning Trump "indefinitely and for at least" until his presidential term is over on January 20.
"The shocking events of the last 24 hours clearly demonstrate that President Donald Trump intends to use his remaining time in office to undermine the peaceful and lawful transition of power to his elected successor, Joe Biden," Zuckerberg wrote in a statement posted on Thursday.
"We believe the risks of allowing the President to continue to use our service during this period are simply too great. Therefore, we are extending the block we have placed on his Facebook and Instagram accounts indefinitely and for at least the next two weeks until the peaceful transition of power is complete," he continued.
Trump's suspension from the social platforms, as well as a 12-hour lock on his Twitter account and a threat to permanently ban his account if future tweets violate policy, came after a chaotic day on Capitol Hill in which pro-Trump rioters violently forced entry into the U.S. Capitol while Congress was certifying Biden's victory. The Capitol was put under lockdown, and Congress went into recess. At least four people died, including one woman who was shot by officers in the Capitol building, and at least 50 people were arrested, police said.
Critics were quick to point out that the collateral damage of Trump's social media posts and repeated spread of disinformation by the president and his supporters have been problematic for years — long before Zuckerberg announced a ban that comes less than two weeks before he leaves office.
"While I'm pleased to see social media platforms like Facebook, Twitter and YouTube take long-belated steps to address the President's sustained misuse of their platforms to sow discord and violence, these isolated actions are both too late and not nearly enough," Sen. Mark R. Warner (D-VA) said in a Thursday statement. "Disinformation and extremism researchers have for years pointed to broader network-based exploitation of these platforms."
Former First Lady Michelle Obama called on tech companies to do their part to stop enabling Trump's dangerous rhetoric by permanently banning him from social platforms in a Thursday statement.
"Now is the time for Silicon Valley companies to stop enabling this monstrous behavior — and go even further than they have already by permanently banning this man from their platforms and putting in place policies to prevent their technology from being used by the nation's leaders to fuel insurrection," she said.
Social platforms' content moderation practices around the spread of misinformation, much of which have centered on or been fueled by Trump himself, has been a point of contention for years, leading to tense Congressional hearings and progressive policy changes by Facebook, Twitter, and other platforms.
In October, Facebook announced it will begin removing any Facebook pages and groups as well as Instagram accounts representing QAnon, a far-right conspiracy theory group, even if the content is non-violent. Twitter also took down thousands of accounts spreading misinformation related to QAnon several months before.
Over the course of 2020, as Trump repeatedly made false claims during a pandemic that has killed hundreds of thousands of Americans, Twitter has more actively blocked or put warning labels on some of Trump's tweets, such as labeling them as containing misinformation.
Though Twitter has not yet extended its ban on Trump's profile, it did specify in its announcement of his suspension that "Future violations...will result in permanent suspension" of his account.