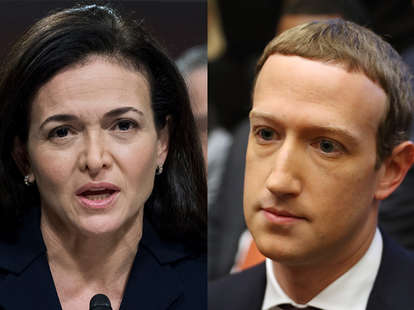 A coalition of civil rights leaders who organized the Stop Hate for Profit boycott met virtually with Facebook leadership on Tuesday. The coalition, which includes the Anti-Defamation League (ADL), Color of Change, and the NAACP, among others, unequivocally described the meeting as unsatisfying.
"The meeting was disappointing at best, sort of exasperating at worst," Jonathan Greenblatt, CEO of ADL, said to NowThis in a July 8 interview.
At least 1,000 companies have signed onto the boycott, which calls on advertisers to halt spending on Facebook for the month of July in protest of the platform's policies on hate speech and misinformation.
Boycott organizers met with Facebook CEO and co-founder Mark Zuckerberg, COO Sheryl Sandberg, and chief product officer Chris Cox. One day later, the company released a final report from an independent, two-years-long civil rights audit that found the company failed to be proactive in monitoring harmful content on its platforms.
Greenblatt said that Facebook called for the meeting to discuss the coalition's demands of the social media company, which include appointing a civil rights executive to evaluate products for bias and removing public and private groups "dedicated to hate or violent conspiracies."
"Our expectation was, in this meeting, Facebook would review the recommendations [and] their intent of how they would tackle each one with milestones and a timetable for implementation," Greenblatt said. "Instead, we've got no plans, no milestones, no time tables."
In a statement, a Facebook spokesperson reiterated its commitment to bettering the platform.
"They want Facebook to be free of hate speech and so do we," the spokesperson said in a July 8 email. "That's why it's so important that we work to get this right."
The company said it has banned more than 200 white supremacist organizations on Facebook and Facebook-owned Instagram. It has also taken action against a number of groups associated with the "boogaloo" movement. Members of the movement belong to a loose network of anti-government, right-wing extremists that in recent weeks have allegedly been tied to violent incidents.
The final report from a wide-ranging civil rights audit of Facebook was released on July 8. The report acknowledged that Facebook has expanded its policies on voter suppression and strengthened its content moderation policies over the two years since the audit began. But it ultimately concluded that the company's "approach to civil rights remains too reactive and piecemeal" and that any advances "could be obscured by the vexing and heartbreaking decisions Facebook has made that represent significant setbacks for civil rights."
The auditors said the company's policies against voter suppression need to be more strongly interpreted. They specifically named President Trump's erroneous posts on mail-in ballots, and Facebook's inaction against those posts, as threats to the company's progress (Twitter fact-checked the same posts on its platform). The report recommends Facebook study hate speech on the platform against targeted groups, including Jews and Muslims, and take a more forceful approach against white nationalism rhetoric. (The full report is available here.)
In a post on Wednesday, Sandberg said the company has already begun to take steps to address concerns brought up in the audit, which include directing users to its voting information center, expanding policies on voter suppression, and also hiring civil rights experts.
Greenblatt said that when Facebook leaders were asked about hiring a civil rights expert during the meeting, they didn't provide any concrete answers about what level the expert would be hired at, when the candidate would be hired, and what their responsibilities would be.
"That should be an easy win, low-hanging fruit," Greenblatt said. "I think you'd call it a lay up, but we're still waiting for them to sink the shot."
Greenblatt said the boycott organizers would be open to meeting with Facebook again if the company commits to a timeline of how it will respond to the coalition's demands. In the meantime, he said the Stop Hate for Profit campaign will continue to amplify and intensify in the coming weeks and months.
Read our original story about the Stop Hate for Profit campaign here.