Facebook Will Now Ban All QAnon Content — 3 Years After Conspiracy Group's Creation
As social platforms work to quell QAnon's influence online, some politicians and lawmakers have expressed support for the conspiracy-pushing group.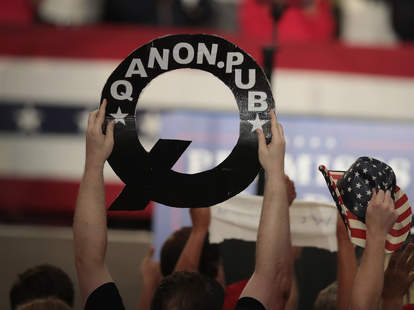 Facebook is cracking down even harder on social pages, groups, and accounts related to QAnon, a far-right conspiracy theory group that has seized some parts of the internet.
The social platform announced Tuesday that it will begin removing any Facebook pages, groups and Instagram accounts representing QAnon, even if the content shared on them is non-violent. The new enforcements are a more rigid update to the policy Facebook announced in August, saying it would remove pages, groups and accounts related to QAnon that discussed potential violence.
"We are starting to enforce this updated policy today and are removing content accordingly, but this work will take time and need to continue in the coming days and weeks," Facebook explained in the announcement. "Our Dangerous Organizations Operations team will continue to enforce this policy and proactively detect content for removal instead of relying on user reports."
The QAnon movement originated in 2017 on the anonymous online board 4chan after an anonymous poster wrote cryptic messages involving multiple presidents and government officials and signed off as "Q." The community has grown to include thousands of followers who share unfounded conspiracy theories and pro-Trump opinions on Facebook, Twitter, YouTube, Reddit, and elsewhere. CNN called the group a "virtual cult."
The most prominent conspiracy theory that stemmed from QAnon is that celebrities, politicians, and other high-profile people are part of a child sex trafficking ring whom President Trump will one day bring to justice. Other more recent unfounded theories include the claim that the 5G cellular network was responsible for spreading COVID-19.
As Facebook, and other social platforms like Twitter, work to quell QAnon's influence online, some politicians and lawmakers have expressed support for the conspiracy-pushing group.
Marjorie Taylor Greene, who won the Republican primary for Georgia's 14th congressional district in August, has promoted theories connected to QAnon and has history of racist and anti-Semitic rhetoric. And though Trump praised her victory, many House Republicans have denounced and distanced themselves from her after news of her offensive views and videos spread online.
Trump himself has also praised QAnon followers for supporting him during an August press conference.
"I don't know much about the movement, other than I understand they like me very much. Which I appreciate," the president said.
Ashleigh Carter contributed to this report.