Michigan family welcomes baby girl after producing only boys for 138 years
"'Everyone was just screaming and jumping in in disbelief."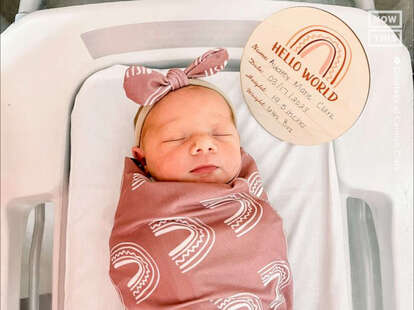 Photo via Carolyn Clark
Photo via Carolyn Clark
When Carolyn Clark was dating her now-husband Andrew, he informed her that his family hadn't had a girl in their direct line since 1885. She didn't believe him at first, but his parents confirmed it was true.
'I asked his parents to confirm that information and they're like, 'Oh yeah, no, we haven't had a girl in our direct line.' He's had uncles and cousins that have had girls but in his lineage, there has not been a girl,' Carolyn Clark told Good Morning America.
Regardless, the Michigan couple got married. At first, it seemed like the trend would continue after they had their first child, their son Cameron. In 2022, the Clarks found out they were going to have another child and that it was going to be a girl. But after two prior miscarriages, all they cared about was a healthy pregnancy and baby.
'When we found out we were pregnant, we honestly didn't care if we were having a boy or girl at that point. We just were thankful to be pregnant and just praying for a healthy pregnancy and a healthy baby,' Carolyn Clark said. 'It was just icing on the cake that it was a girl.'
The Clarks held a gender reveal party in September 2022. When their loved ones bit into cookies, they found pick icing inside.
'Everyone was just screaming and jumping in in disbelief,' Carolyn Clark told local affiliate WZZM 13.
Audrey Marie Clark was born on March 17, St. Patrick's Day, breaking the family's boys-only streak. The couple said they're overjoyed that their baby girl is here and healthy.