Fauci And Other Top U.S. Health Officials Self-Quarantine After Coronavirus Exposure
The officials are still expected to testify at a Senate hearing about the coronavirus this week via video conference.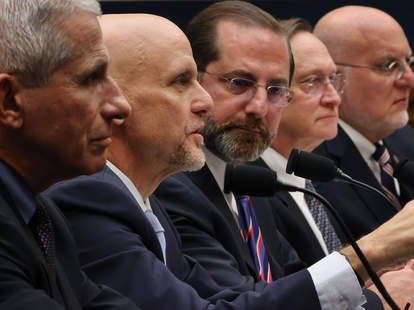 Getty Images / Anthony Fauci, Stephen Hahn, Alex Azar, Robert Kadlec and Robert Redfield.
Dr. Anthony Fauci and two other members of the federal coronavirus task force announced that they will quarantine following "low risk" contact with a White House staffer who tested positive for the virus.
Fauci, the director of the National Institute of Allergy and Infectious Diseases told CNN on Saturday that he is entering what he calls a "modified quarantine," meaning he will stay at home and telework, while continually wearing a mask, for 14 days. Fauci also said he will be tested every day, noting that he was tested Friday and was negative.
The "low risk" exposure means that he was not in close proximity with the infected individual during the time when that person was known to be positive for the virus.
Food and Drug Administration Commissioner Dr. Stephen Hahn and Centers for Disease Control and Prevention Director Dr. Robert Redfield are also reportedly self-quarantining, following exposure to the virus.
"As Dr. Hahn wrote in a note to staff today, he recently came into contact with an individual who has tested positive for COVID-19," FDA spokesman Michael Felberbaum told CNN in a statement on Friday. Per the CDC's guidelines, Hahn "is now in self-quarantine for the next two weeks. He immediately took a diagnostic test and tested negative for the virus," Felberbaum said.
"CDC Director Dr. Robert Redfield has been determined to have had a low risk exposure on May 6 to a person at the White House who has COVID-19. He is feeling fine, and has no symptoms. He will be teleworking for the next two weeks," a CDC spokesperson told several media outlets on Saturday. 
Fauci, Redfield, and Hahn — along with a fourth witness, Health and Human Services assistant secretary Dr. Brett Giroir — are still expected to testify at a Senate hearing about the coronavirus this week via video conference.
Sen. Lamar Alexander, the chairman of the Senate Health, Education, Labor and Pensions (HELP) Committee, who is also self-quarantining following one of his staff testing positive for the virus, announced Sunday that the taskforce members would appear virtually for the hearing, "in an abundance of caution" for others participating. 
The hearing will allow senators to hear "about what federal, state and local governments are doing to help Americans go back to work and back to school as rapidly and safely as possible," according to a release from the HELP committee.
Though the taskforce members' announcements didn't specify which staffer they were exposed to who had tested positive for the virus, President Trump confirmed during a meeting on Friday that a member of Vice President Mike Pence's staff had tested positive. CNN reported on Thursday that the White House confirmed one of Trump's personal valets tested positive for the virus. 
CNN also reported that the White House sent out an email to all staff on Friday, detailing the measures the White House is taking to prevent the spread of the virus.