Fauci Says Don't Panic Over Johnson & Johnson Vaccine After Reports Of Rare Blood Clots
Federal officials are recommending a pause on the Johnson & Johnson vaccine while they review six reports of rare blood clots out of nearly seven million doses administered, and get information out to health care providers about treatment options.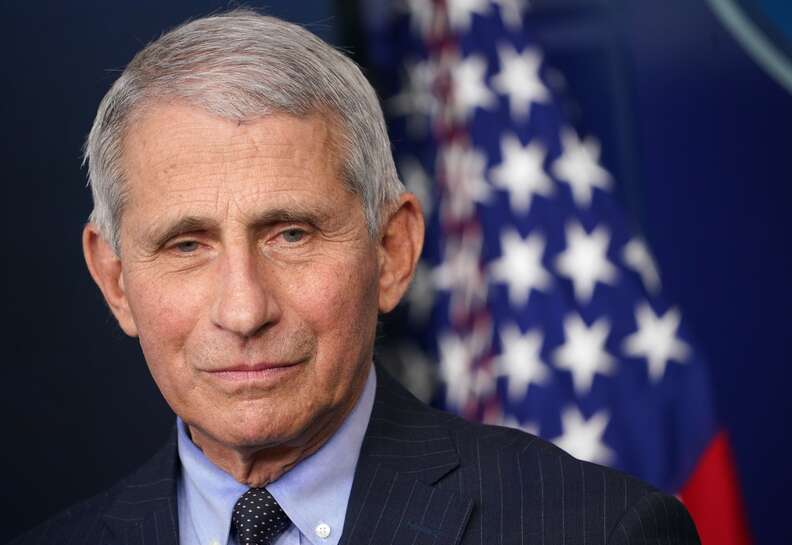 The Food and Drug Administration (FDA) and Centers for Disease Control and Prevention (CDC) are recommending a pause on use of the Johnson & Johnson COVID-19 vaccine "out of an abundance of caution," after reports of six cases where people developed a "rare and severe type of blood clot" after receiving the vaccine. The six cases are out of more than 6.8 million Johnson & Johnson doses that have been administered in the U.S. nationwide.
In a joint press briefing Tuesday morning, doctors from the CDC and FDA were quick to emphasize — repeatedly — that the reported blood clots are "extremely rare." Officials said one case was fatal, and one patient is in critical condition. The cases occurred only in women between ages 18 and 48; they saw symptoms six to 13 days after getting the one-shot vaccine, officials said.
"We're recommending this pause while we work together to fully understand these events, and also so we can get information out to health care providers and vaccine recipients," said acting FDA commissioner Dr. Janet Woodcock. "Right now, I'd like to stress these events appear to be extremely rare. However, COVID-19 vaccine safety is a top priority for the federal government and we take all reports of adverse events following vaccination very seriously."
At a White House press briefing Tuesday afternoon, Dr. Anthony Fauci of the National Institute for Allergy and Infectious Diseases urged people who have received the Johnson & Johnson vaccine in recent days to stay calm.
"I would tell them to just first of all, don't get an anxiety reaction, because remember, it's less than one in a million," Fauci said, referring to the six reported cases out of 6.85 million doses administered. "However, pay attention to symptoms," he continued, like severe headaches, abdominal pain, leg pain, or shortness of breath, if they present within three weeks of getting the vaccine.
As for others outside of that window, Fauci said, "Someone who had this a month or two ago may say, what does this mean for me? It really doesn't mean anything, you're okay," because of the "tight" six to 13-day window where the rare blood clots were reported.
Dr. Peter Marks, who is director of the FDA center for biologics evaluation and research, said the rare type of blood clot is called cerebral venous sinus thrombosis, or CVST. It was reported "in combination with low levels of platelets in the blood, called thrombocytopenia."
"Treatment of this specific type of blood clot is different from the treatment that might typically be administered" for blood clots, Dr. Marks said. He noted that the standard treatment doctors use, heparin, "may be dangerous" in this case — which is a major reason for the recommended pause while health officials review data. It is not a mandate, Dr. Marks said.
The Johnson & Johnson vaccine is one of three federally approved vaccines in the U.S., including Moderna and Pfizer/BioNTech. Only about 5% of vaccine doses administered in the U.S. as of Tuesday were of the Johnson & Johnson vaccine, CDC data shows.
White House COVID-19 response coordinator Jeff Zients said in a statement Tuesday that the recommended pause "will not have a significant impact on our vaccination plan."
Johnson & Johnson also issued a statement Tuesday saying the company is "aware of an extremely rare disorder involving people with blood clots in combination with low platelets in a small number of individuals" who received their one-dose vaccine.
"The safety and well-being of the people who use our products is our number one priority," the statement began. The company also said it is reviewing the cases with European health authorities and made the decision to "proactively delay the rollout of our vaccine in Europe."

What people who received the J&J vaccine should look for regarding blood clots
Both Johnson & Johnson and health officials advised people who have received the one-dose vaccine to look out for these symptoms within three weeks of vaccination, and to contact their health care provider if they experience "severe headache[s], abdominal pain, leg pain, or shortness of breath."
The Department of Health and Human Services also requests that health care providers report "adverse events" or serious side effects using the online Vaccine Adverse Event Reporting System.
CDC officials will hold a committee meeting Wednesday "to further review these cases and assess their potential significance."
Johns Hopkins University describes CVST as a "rare form of stroke" that affects about five people out of 1 million every year. Given that rate, six cases of CVST out of nearly 7 million doses is even more rare. Dr. Marks said Tuesday that the combination of CVST with low platelets, or thrombocytopenia, is an "occurrence together that makes a pattern, and is very, very similar to what was seen in Europe with another vaccine." Some people in Europe have reported "rare but severe" blood clots after receiving the AstraZeneca COVID-19 vaccine.
So how will this news affect vaccine hesitancy?
Some people have expressed concern that the government's recommended pause will worsen the problem of vaccine hesitancy.
When asked by a reporter what they would say to people who say this is an "overreaction," Dr. Anne Schuchat, the CDC's principal deputy director, said, "We are committed to safety and transparency and to expeditiously learning as much as we can so that further steps can be taken. When we saw this pattern and were aware that treatment needed to be individualized for this condition, it was of the utmost importance for us to get the word out."
Schuchat added: "That said, the pandemic is quite severe and cases are increasing in a lot of places, and vaccinations are critical, so we want to make sure that we make some recommendations quickly."
Washington Post reporter Fenit Nirappil, who covers coronavirus, pointed to data of the continuing spread of COVID-19 nationwide
Nirappil tweeted: "it's important to stress [that] the feds are asking for a pause to give doctors time to plan how to respond to these extremely rare cases. Side effects are inevitable. Meanwhile, we are averaging 750 covid deaths and 70,000 new infections every day."
When asked if the federal government would stop a provider from administering the J&J vaccine, Dr. Marks once again said the recommended pause is "out of an abundance of caution," and "on an individual basis, a patient and provider can make a determination on whether or not to receive the vaccine." Some states have already paused distribution of the vaccine and are working to ensure patients scheduled to receive the one-dose shot are rescheduled for Pfizer or Moderna instead.
"Providers need to be aware if they see people with low platelets or blood clots, they need to ask about recent vaccination," Dr. Marks said. "Part of the reason we're taking the pause is to ascertain whether there are more cases — hopefully, it's just going to be a few."
Watch the CDC and FDA press briefing below: