FBI & NASCAR To Investigate Noose Found In Bubba Wallace's Garage At Alabama Race
"Regardless of whether federal charges can be brought, this type of action has no place in our society."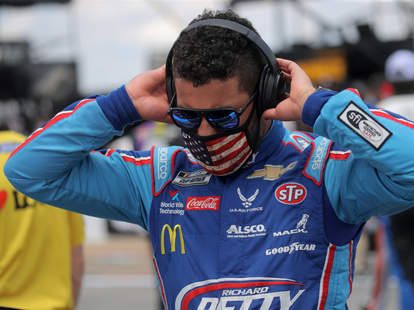 Getty Images/ Bubba Wallace prepares for the NASCAR Cup Series GEICO 500 at Talladega Superspeedway on June 22
After a noose was found in the garage stall of Bubba Wallace, the NASCAR top circuit's only Black driver who pushed the racing giant to ban Confederate flags less than two weeks ago, federal authorities said they will investigate.
One of Wallace's teammates reportedly found the noose on Sunday while at the Talladega Superspeedway in Alabama. Wallace has been a vocal supporter of the Black Lives Matter movement in recent weeks, as protests against police brutality have erupted across the U.S.
"The U.S. Attorney's office for the Northern District of Alabama, FBI and the Department of Justice Civil Rights Division are reviewing the situation surrounding the noose that was found in Bubba Wallace's garage to determine whether there are violations of federal law," Jay E. Town, United States Attorney for the Northern District of Alabama, said in a statement on Monday. 
"Regardless of whether federal charges can be brought, this type of action has no place in our society," Town continued.
NASCAR also condemned the "heinous act" on Sunday and said it would investigate.
"We are angry and outraged and cannot state strongly enough how seriously we take this heinous act," NASCAR's statement read. "We have launched an immediate investigation and will do everything we can to identify the person(s) responsible and eliminate them from the sport. As we have stated unequivocally, there is no place for racism in NASCAR and this act only strengthens our resolve to make the sport open and welcoming to all."
According to ESPN, Wallace's teammate discovered the noose and brought it to NASCAR's attention, but Wallace never saw it. 
Wallace, an outspoken advocate for the Black Lives Matter movement and the only Black driver in NASCAR's top circuit tweeted on Sunday that the "despicable" act of racism left him "incredibly saddened and serves as a painful reminder of how much further we have to go as a society and how persistent we must be in the fight against racism."
"This will not break me, I will not give in nor will I back down," Wallace continued. "I will continue to stand proudly for what I believe in."
NASCAR President Steve Phelps said Monday that the person or people who hung the noose will "unequivocally... be banned from the sport for life," the Washington Post reported. 
At that Cup Series race at Talladega Superspeedway on Monday in Alabama, which was postponed on Sunday due to weather conditions, dozens of NASCAR drivers walked with Wallace and pushed his car to the front of the field in support.
The entire NASCAR garage walks with Bubba Wallace and pushes his car to the front of the field prior to today's race at Talladega. Video: https://t.co/bZO8WfRQT1

— Jeff Gluck (@jeff_gluck) June 22, 2020
Wallace also tweeted a selfie, in which he's surrounded by people, along with the word "Together."
The phrase #IStandWithBubba was added to the tri-oval grass at Talladega.
The incident follows NASCAR's announcement earlier this month that it would ban displays of the Confederate flag at events. Wallace had originally called for the ban during an interview with CNN's Don Lemon. 
"No one should feel uncomfortable when they come to a NASCAR race," Wallace told Lemon. "It starts with Confederate flags… Get them out of here. They have no place for them."
Despite the ban, a Confederate flag along with a banner that said "Defund NASCAR" was seen flying above the Talladega track over the weekend. Steve O'Donnell, NASCAR's executive vice president, called the person behind the flag a "jackass."