FDA Alters Policy Prohibiting Gay, Bisexual Men From Donating Blood
Men who are sexually active with other men must abstain from sex for 3 months as opposed to 12 months to donate blood, which is in high demand during the coronavirus pandemic.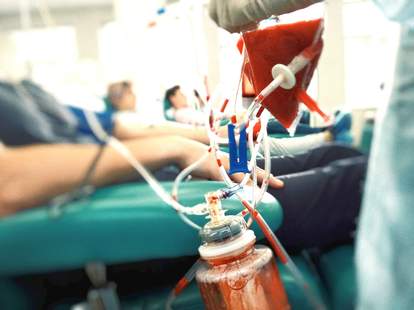 The Food and Drug Administation altered its policy prohibiting blood donations from men who have sex with other men following pressure from activists and a petition that ammassed more than 20,000 signatures.
In the petition, which was created by the Gay and Lesbian Alliance Against Defamation (GLAAD), the LGBTQ+ organization urged the FDA to reasses the "antiquated" policy which says men who are gay, bisexual, or have sex with other men cannot donate blood unless they have abstained from sex for at least 12 months. On Thursday, the FDA released a revised version of the policy which changed the time period from 12 months to 3. 
The change comes at a time when blood donations are in high-demand as part of relief efforts for the coronavirus pandemic. During a White House press briefing on March 19, Surgeon General Dr. Jerome Adams urged people to donate blood and plasma, specifically calling on millennials and Gen Z. Soon after, several people pointed out the FDA's policy, which stem back to 1983 during the HIV/AIDs crisis. 
In every emergency my gut tells me to run to the Red Cross and stand in line, but LGBTQ Americans are still unable to donate blood and plasma in this country. We want to help. #EndTheBloodBan https://t.co/vhljQbDkjw

— Chasten Buttigieg (@Chas10Buttigieg) April 1, 2020
The antiquated ban that still prevents gay and bisexual men, and men who have sex with men from donating blood must be immediately lifted by the @US_FDA. https://t.co/cPpHLEbTAF

— Sarah Kate Ellis (@sarahkateellis) March 19, 2020
"This antiquated ban is not only discriminatory, but has been debunked by leading medical organizations for years," the GLAAD petition reads. "The American Public Health Association has argued that the current ban "is not based in science but appears to be modeled after other countries' choices and fears."
The petition also says that an estimated 360,000 men would likely donate, which could equal to saving around 1 million lives.
Blood donations and specifically antibody-rich plasma from people who have contracted and recovered from COVID-19, are essential for helping other patients  battling the virus. A gay man in New York told NBC News that he recovered from coronavirus and was ready to donate his plasma but was turned down because he was taking the preventative HIV drug, Truvada. The new guidelines do not specifically mention if men who take Truvada or PrEP are able to donate blood. 
"The FDA needs to put science above stigma," the petition goes on to say. "Gay men, bisexual men, and men who have sex with men want to give blood and should be able to contribute to help their fellow Americans."