Federal Agents Who "Brought Violence" To Portland Will Be Leaving, Governor Says
The agents' departure from Portland as well as Seattle comes after Attorney General Bill Barr defended their tactics before Congress.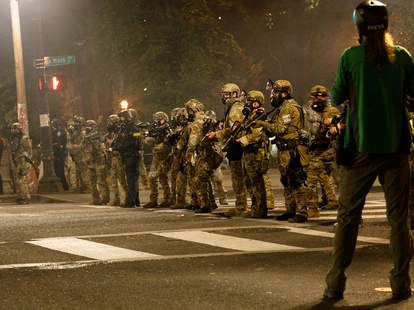 Federal agents deployed by the Trump administration to Pacific Northwest cities will be leaving, according to state officials. Their exit comes after Attorney General Bill Barr on Tuesday defended the agents' controversial tactics against Black Lives Matter protesters in testimony before Congress.
Washington Gov. Jay Inslee (D) and Oregon Gov. Kate Brown (D) announced that the agents will be leaving Seattle and Portland, respectively, after state and local officials repeatedly condemned their presence and aggressive tactics in recent weeks.
The Department of Homeland Security said in response that agents will remain in Portland until "we are assured that the Hatfield Federal Courthouse and other federal properties will no longer be attacked and that the seat of justice in Portland will remain secure," according to a statement Wednesday from acting secretary Chad Wolf. Protesters for weeks have demonstrated outside of the federal courthouse.
The agents deployed to Portland earlier this month came from federal agencies including the U.S. Marshals Service, U.S. Customs and Border Protection, and Immigration and Customs Enforcement following a June executive order to protect federal monuments. The agents were deployed to Seattle as recently as Friday, July 24. 
The nation watched Portland's protests in recent weeks gain momentum as mayors and governors clashed with the president over the federal agents' presence. Observers, elected officials, and journalists have also seen the feds' deployment as an election year scheme by President Trump — an attempt to depict America's progressive urban centers as chaotic and uncivil, and to exercise federal force in the face of Black Lives Matter protests any condemned the actions of federal agents as unconstitutional.
On Monday, the "Wall of Moms" in Portland joined the Black-led group Don't Shoot Portland and individual demonstrators to sue the Trump administration over violent suppression of free speech.
"After my discussions with VP Pence and others, the federal government has agreed to withdraw federal officers from Portland," Gov. Brown said in a tweet on Wednesday. "They have acted as an occupying force & brought violence. Starting tomorrow, all Customs and Border Protection & ICE officers will leave downtown Portland."
Brown continued: "Our local Oregon State Police officers will be downtown to protect Oregonians' right to free speech and keep the peace. Let's center the Black Lives Matter movement's demands for racial justice and police accountability. It's time for bold action to reform police practice."
Seattle officials confirmed on Tuesday that federal agents deployed there have left the city.
"This demobilization means Washingtonians no longer have to worry about the White House's aim to provoke confrontation and undermine peaceful protests," Gov. Inslee said in a statement. "Those peacefully protesting have raised the public's consciousness of the urgent need for racial justice, and I have no doubt they will continue to use their voices to call for action. We must continue making progress toward a better and more just Washington for everyone."
In his first-ever appearance before the House Judiciary Committee on Tuesday, Barr defended the agents and said "violent rioters and anarchists have hijacked legitimate protests" against police brutality in cities across the U.S. in the wake of George Floyd's death in Minneapolis. Barr's depiction of protesters echoed that of acting secretary Wolf, who has called them "violent anarchists and extremists."
During their time in Portland, federal agents were captured on video throwing protesters into unmarked vans without cause and landing a U.S. Navy veteran in the hospital with a broken hand. The city's mayor Ted Wheeler was also tear gassed during a demonstration. Last week, a judge in Portland blocked federal agents in the city from arresting legal observers or journalists during ongoing anti-racism protests. 
"A secretive, nationwide police force — created without congressional input or authorization, formed from highly politicized agencies, tasked with rooting out vague threats and answerable only to the president — is a nightmare out of the fever dreams of the founding generation, federalists and antifederalists alike," Jamelle Bouie wrote in the New York Times. "It's something Americans continue to fear and for good reason. It is a power that cannot and should not exist in a democracy, lest it undermine and destroy the entire project."