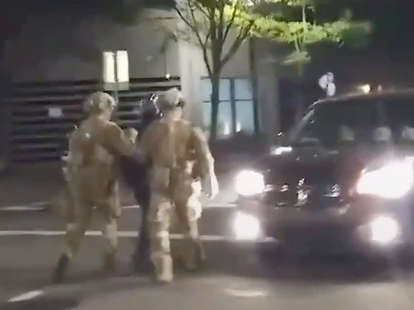 Twitter / @RisingPDX — Federal officers in Portland escort a protester into an unmarked vehicle in a video posted on July 15
Federal officers deployed by the Trump administration to suppress the enduring anti-racism demonstrations in Portland have been filmed pulling protesters off the streets and into unmarked vehicles. The detainments have sparked outrage online and among members of Congress as well as calls for an explanation.
The Department of Homeland Security deployed federal officers to the Oregon city following President Trump's executive order in late June to protect federal monuments and memorials against protesters.
According to local reports from KGW8, four federal law enforcement agencies including the U.S. Marshals Service and U.S. Customs and Border Protection have been rotating officers through Portland since early July. Those officers have reportedly arrested nearly a dozen people, according to federal prosecutors, and have used pepper balls, flashbangs, and tear gas against protesters. On July 11, one officer also fired impact munition at 26-year-old Donavan LaBella, which left him seriously injured (reports have varied on what type of munition law enforcement used).
Videos and firsthand accounts published this week have also revealed that protesters have been pulled into unmarked vehicles by federal officers without explanation.
Several protesters told Oregon Public Broadcasting (OPB) that one individual in their group was pulled into a van, searched, then taken inside the federal courthouse and held in a cell for several hours before he was read his rights and asked if he would answer a few questions. After the detained protester demanded a lawyer, the interview was terminated, and he was released, OPB reported. (It also specified, based on multiple interviews, that the officers have been detaining individuals who weren't near federal property, even though they were dispatched by the Trump administration to protect federal monuments.)
The reported detainments have sparked shock and outrage online from activists and elected officials.
"Usually when we see people in unmarked cars forcibly grab someone off the street we call it kidnapping — what is happening now in Portland should concern everyone in the US," the ACLU tweeted early Friday. "These actions are flat-out unconstitutional and will not go unanswered."
Sen. Jeff Merkley (D-OR) also admonished the officers' tactics, tweeting that President Trump and acting Secretary of Homeland Security Chad Wolf "are weaponizing the DHS as their own occupying army to provoke violence on the streets of my hometown…"
Others have also questioned the constitutionality of the detainments.
"Arrests require probable cause that a federal crime had been committed, that is, specific information indicating that the person likely committed a federal offense, or a fair probability that the person committed a federal offense," law professor Orin Kerr told The Washington Post. "If the agents are grabbing people because they may have been involved in protests, that's not probable cause."
Earlier this week, Portland Mayor Ted Wheeler said Secretary Wolf asked him how his agency could further help with the demonstrations. Wheeler said he responded: "My biggest immediate concern is the violence federal officers brought to our streets in recent days, and the life-threatening tactics his agents use."
"We do not need or want their help," he continued.
In a statement on Thursday, Wolf condemned Portland's protesters as "lawless anarchists." He also said Portland officials tried to reject the DHS officers:
"I offered @DHSgov support to help locally address the situation that's going on in Portland, and their only response was: please pack up and go home," he said, adding, "That's just not going to happen on my watch."
Oregon Rep. Earl Blumenauer (D) announced on Friday that the Oregon Congressional Delegation is demanding an immediate investigation from the Inspector General into the "violent actions of unrequested federal law enforcement officials here in Portland."
Sens. Chris Murphy (D-CT) and Minority Leader Chuck Schumer (D-NY) also introduced legislation in June requiring unidentified law enforcement officers and service members to clearly identify themselves and their agency or service while they are engaged in crowd control or arresting individuals involved in civil disobedience or protests in the U.S. The senators proposed the bill after officers across the U.S. were caught hiding their badges and concealing their IDs when confronted by protesters in early June.