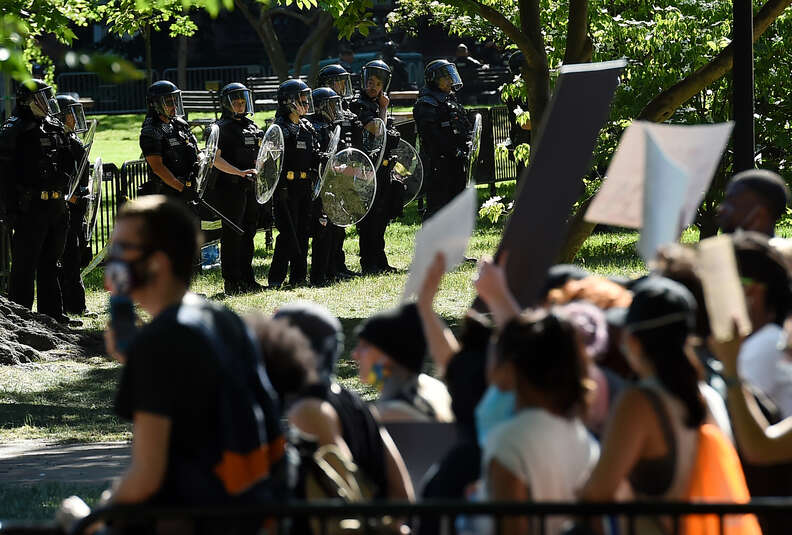 Federal officers began stockpiling ammunition and looked into obtaining a weapon known as a "heat ray" to potentially fend off demonstrators during a Washington D.C. protest in June, according to written testimony from a member of the National Guard who was at the scene. The "heat ray" can make a person's skin feel like it's burning.
Maj. Adam DeMarco's sworn testimony recounts federal officers' violent use of force against protests in Washington, D.C., on June 1 in order to clear the path for President Trump's photo op in front of a church.
DeMarco testified as a witness before the House Committee on Natural Resources earlier this summer about tactics used during the protest in Lafayette Square. DeMarco also said that "approximately 7,000 rounds of ammunition" had been transferred to the D.C. armory hours before the protest.
In written testimony from August published this week by the New York Times and NPR, DeMarco said that he was copied on an email on June 1 from the lead military police officer in the Department of Defense for the D.C. region, who mentioned acquiring two weapons. The first, DeMarco said, was a Long Range Acoustic Device (LRAD), or a "sound cannon," and the Active Denial Systems (ADS), also called a "heat ray."
The ADS is described as creating an "energy beam that provides a sensation of intense heat on the surface of the skin."
The "heat ray" weapon has a controversial history and was shown to cause second-degree burns in a 2007 study. Some activists questioned the effects it would have on pregnant women and children. Pentagon officials decided against using the same kind of weapon during the Iraq War because it "could be misconstrued as a torture machine," the Associated Press reported.
DeMarco wrote in the testimony that he informed the DOD officer that the D.C. National Guard did not possess either weapon. He also added that a basic megaphone was used to disperse the crowd and not the LRAD.
"That anyone in the Department of Defense referred to American citizens exercising their First Amendment rights as 'potential adversaries' and even contemplated the use of an ADS on the streets of our nation's capital is deeply disturbing and calls for further investigation," DeMarco's lawyer, David Laufman, told the Washington Post.
The June protest outside of the White House was one of many demonstrations that took place nationwide following George Floyd's death. Law enforcement from the National Guard, U.S. Park Police and Secret Service used force including tear gas and rubber bullets to break up the crowd of peaceful demonstrators. (Another witness testified earlier claimed park police officers used "stinger balls" that day.)
Two Australian journalists were shown on camera being assaulted by officers and confirmed that tear gas and rubber bullets had been deployed.
DeMarco's testimony directly contradicts the White House's claim that the use of force was in response to the protesters becoming violent, as DeMarco said the crowds were not given any sort of warning and tear gas was indeed used.

According to a Department of Defense official who spoke with the Washington Post, the email asking for military-grade weapons are "routine inventory checks to determine what equipment was available."
Though Laufman disputes this, telling the New York Times: "There is nothing 'routine' about giving serious consideration to using such a device against our fellow citizens peacefully demonstrating in the streets of our nation's capital."
Despite President Trump calling the protests "violent mobs," data collected by the U.S. Crisis Monitor found that the protests over the summer were largely peaceful. According to the study, 93% of "demonstrators have not engaged in violence or destructive activity."