Feds Deployed To Seattle After Portland Judge Blocks Arrests Of Protest Observers
Though the Trump administration's deployment of federal agents to suppress anti-racism protests has drawn backlash, the agents are headed to more U.S. cities.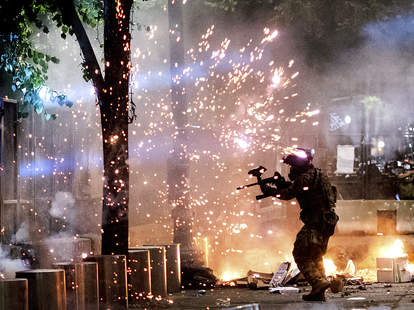 A judge in Portland has blocked federal agents in the city from arresting legal observers or journalists during ongoing anti-racism protests. The decision came as the Trump administration sent additional federal agents to Seattle.
U.S. District Judge Michael H. Simon on Thursday delivered a 14-day restraining order to protect people covering the demonstrations — a decision that has drawn support from civil liberties groups. The nation has watched the protests in Portland that in recent weeks have gained momentum as local officials have clashed with the president over the deployment of federal officers in the city.
"When wrongdoing is underway, officials have great incentive to blindfold the watchful eyes of the Fourth Estate," Simon wrote in his 22-page ruling. "The free press is the guardian of the public interest, and the independent judiciary is the guardian of the press."
In recent weeks, federal agents have drawn scrutiny for throwing protesters into unmarked vans without cause and landing a U.S. Navy veteran in the hospital with a broken hand. The city's mayor Ted Wheeler was also tear gassed during a demonstration this week.
"This order is a victory for the rule of law," said Jann Carson, interim executive director of the ACLU of Oregon, of Simon's ruling. "Federal agents from Trump's Departments of Homeland Security and Justice are terrorizing the community, threatening lives, and relentlessly attacking journalists and legal observers documenting protests. These are the actions of a tyrant, and they have no place anywhere in America."
The Associated Press reported on Friday that 18 people were arrested this week in Portland, according to state prosecutor Billy J. Williams. Acting DHS Secretary Chad Wolf said as of Tuesday that federal agents have made 43 arrests since July 4.
Portland deputy city attorney Denis Vannier told The Oregonian that he believes the deployed agents are "a calculated decision by President Donald Trump to target largely liberal, progressive cities in a political stunt to help his election in November."
Though multiple elected officials have condemned his administration's deployment of the officers, Trump announced Wednesday that he would send hundreds of additional federal agents to other cities including Chicago and Albuquerque in a larger push for "law and order."
Attorney General Bill Barr also advocated for federal intervention against local crime during a press conference this week in which he falsely claimed "Operation Legend," a federal anti-crime initiative, has led to hundreds of recent arrests in Kansas City. The claim was quickly refuted by outlets including The Kansas City Star, which ran the headline, "Barr claimed feds in KC made 200 arrests in two weeks. That's not even close to true."
A DHS spokesperson told the New York Times that the administration expected to send fewer agents from the U.S. Customs and Border Protection to Seattle than to Portland.
Seattle Mayor Jenny Durkan, who has previously clashed with the president over the now-disbanded autonomous protest zone, has said she wasn't given advanced notice about the agents' arrival. Durkan said on Twitter that she spoke with Acting Secretary Wolf earlier Thursday, and he told her the agency wouldn't deploy forces in Seattle. Later, DHS appeared to backtrack, saying "they have a limited number of agents in the area on standby to protect federal buildings," according to Durkan.
A DHS spokesperson corroborated to the Times that the agents "are charged with protecting federal buildings," adding that they "would only be used if protests expected this weekend escalate out of control."
Though the Trump administration dispatched the officers following a June executive order to protect federal monuments, Oregon Public Broadcasting has specified, based on multiple interviews, that the officers have been detaining individuals who weren't near federal property.
Neither Pacific Northwest city is offering the agents a warm welcome.
"Let me be clear: this community rejects Trump's unconstitutional use of federal force. It is a transparent attempt to intimidate. But we will not be intimidated," the King County, Washington executive Dow Constantine tweeted last night. "Know your rights. Stay vigilant, stay safe, and stay away from federal agents."