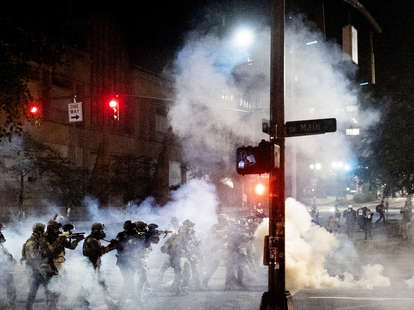 Federal officers deployed by President Trump were captured on video spraying tear gas and using batons against protesters in Portland, which has logged more than 50 nights of demonstrations against police brutality and systemic racism since the killing of George Floyd.
The unrest in the Pacific Northwest city has gained national attention, as local elected officials and Congressional members have demanded the exit of federal officers who have been captured on video making aggressive arrests and throwing protesters into unmarked vans. The officers from agencies including the U.S. Marshals Service and U.S. Customs and Border Protection were dispatched to Portland earlier this month.
The city's police also confirmed that federal officers used tear gas during demonstrations that have been ongoing outside of a federal courthouse. The latest night of demonstrations on Sunday were largely peaceful, though some protesters began to tear down a fence outside the courthouse, the Oregonian reported.
On Monday, President Trump commended the officers for doing "a fantastic job" and suggested he may send additional federal officers to other major U.S. cities including New York, Chicago, Philadelphia, Detroit, Baltimore, Oakland. The president also called the protesters in Portland "anarchists and agitators" in a tweet on Sunday.
Several moments from the recent Portland protests were captured on video over the weekend and widely shared online.
On Saturday, a group of women wearing bike helmets formed what's been called a "wall of moms" and chanted phrases such as "Feds stay clear! Moms are here!" and "Leave our kids alone!" Organizer Bev Barnum told BuzzFeed News that federal officers unleashed tear gas on them that night. Another "wall of moms" returned on Sunday, and there's now a Twitter page dedicated to the group.

Also Saturday, U.S. Navy veteran Christopher David reportedly attended his first night of protests since they began in June to ask the federal officers why they have defied their oath of office. In a video that's been viewed nearly 11 million times as of Monday, the federal officers spray tear gas at David as he approaches them and then beat him with a baton. Multiple outlets reported that his right hand was broken in two places.

During an overnight protest on Friday, a woman who was fully nude appeared in a nearly 40-second video standing before a line of officers who did nothing. The video of the woman, who hasn't been publicly identified yet has been dubbed "Naked Athena," has been viewed more than 400,000 times. The Oregonian reported that the woman did ballet poses during the demonstration, and that officers fired pepper balls at her feet. Another protester was seen on camera running in front of her while hoisting up a shield.
Elected officials have been speaking out on Twitter and in interviews in an apparent condemnation of the federal officers' tactics.
Portland Mayor Ted Wheeler told CNN on Sunday that he believes Trump is breaking the law by sending feds to the city, calling the tactics "abhorrent" and saying protesters have been "denied probable cause" and "denied due process."
"As far as I can see, this is completely unconstitutional," Wheeler told CNN. "Take these people out of our city. They are not helping us. They are hurting us. They're escalating an already dangerous situation."