FIRST LOOK: Trailers for "Till," "Oppenheimer," and "Blonde"
Trailers for these three highly anticipated biopics just dropped, and we're not sure if we're ready…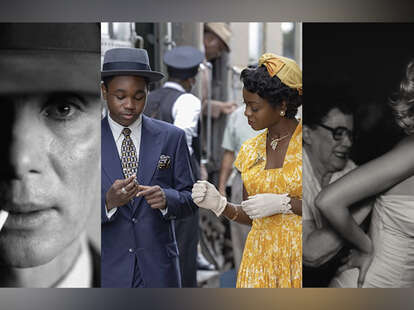 First-look trailers have been released for three highly anticipated films about notable historical figures. And, after watching each clip ourselves, let's just say we're bracing for a wiiiiide range of emotional impact from all 3.
Perhaps the most gripping true story of the new releases, "Till" depicts the young life and death of Emmett Till, a 14-year-old Black boy from Chicago who was brutally lynched on August 28, 1955. While visiting family in Mississippi, Emmett was falsely accused of harassing a white woman, Carolyn Bryant, at a grocery store. He was subsequently kidnapped and murdered by Bryant's husband and his brother. The movie will also ostensibly explore his mother Mamie Till-Mobley's fight for justice in the wake of her son's death. Her decision to have an open-casket funeral for Emmett despite his gruesome injuries exposed the racist atrocities done to him on a global scale and helped lend momentum to the emerging Civil Rights Movement. In March 2022, President Biden signed the Emmett Till Antilynching Act, which finally made lynching a federal hate crime more than 122 years after the first anti-lynching bills were introduced in Congress. Directed by Chinonye Chukwu, "Till" stars Jalyn Hall, Haley Bennett, Whoopi Goldberg, and Frankie Faison, and is slated to be released nationwide in October. Watch the compelling trailer for "Till" here.
Award-winning director Christopher Nolan takes the reigns for what promises to be an appropriately on-brand, exceedingly intense recounting of the book, "American Prometheus: The Triumph and Tragedy of J. Robert Oppenheimer" by Kai Bird and Martin J. Sherwin. Oppenheimer, a theoretical physicist and University of California, Berkeley professor active in the early to mid-1900s, is best known for his work on the Manhattan Project, which led to the creation of the atomic bomb. The black andwhite teaser trailer shows Cillian Murphy as Oppenheimer, alongside other A-list actors such as Emily Blunt, Robert Downey Jr., Matt Damon, Rami Malek, Benny Safdie, Florence Pugh, Kenneth Branagh, and more. "Oppenheimer" is set to premier on July 21, 2023. Watch the trailer for the impending blockbuster here.
Ana de Armas will portray Hollywood icon Marilyn Monroe in this biopic based on the best-selling Joyce Carol Oates biographical fiction novel of the same name. So far, much of the film's buzz surrounds its allegedly "graphic" content, which has earned it an NC-17 rating In the trailer, which Netflix dropped on Thursday, Armas and director Andrew Dominik expose viewers to a darker and decidedly more volatile side of Monroe's meteoric rise to fame. "Blonde" will also be part of the lineup of films at the 2023 Venice Film Festival, after Cannes Film Festival CEO Thierry Frémaux was unable to reach a compromise with Netflix regarding the film's inclusion at Cannes this past spring. Also featured in the film, which will make a debut on September 23, are Bobby Cannavale, Adrien Brody, Julianne Nicholson, Xavier Samuel, and Evan Williams. See the sinister — and scintillating! — trailer for yourself here.